Two of Our Own Stanley Domagala and Joe Sipa Auschwitz Concentration Camp Survivors
Posted Wednesday, February 4, at 1:23 PM
Part I Stanley and Joe were concentration camp survivors. They usually kept quiet about their Holocaust ordeal. They had only one solution about their past and that was to Live, Love, Work, have children, and to have joy in their lives because those were the only sentiments that allowed them to survive...
---
Two of Our Own Stanley Domagala and Joe Sipa Auschwitz Concentration Camp Survivors
Posted Wednesday, February 4, at 1:23 PM

Part II Stanley Stanislaw Domagala was born on 22 Jan 1914 in Poland. He was a young married father. He had a small little efficient home and was working at a butcher shop and saw a bright future. But, that night as he tuck his sweet cubby cheek little Polotski daughter Grace Marie into bed she was taken from her bed, thrown down the stair, kicked, stomped on, and then shot to death by a soldier. ...
---
Recording Your Sources
Posted Thursday, January 22, at 11:09 AM

Once you have found information, you will want to record the source thoroughly so that you or someone else could easily find it again to verify the contents. It also helps you and anyone else to assess the reliability of a piece of information if we know where it comes from. ...
---
When Asking For Help
Posted Tuesday, January 13, at 10:10 AM

Recently I was speaking with another genealogist and she remarked that often people do not supply enough background information when submitting a query or asking for help. This can lead to unsatisfactory responses and duplication of research. It is best to provide as much information as possible. ...
---
A Letter with Surprises and Never Give Up!
Posted Tuesday, December 30, at 11:18 AM

A Letter with Surprises and Never Give Up! I was recently doing some research for a lady from Ft. Devens, Mass. whose family had roots in our area and wasn't having any success. She had given me a list of names and I found and recorded a lot of material on people with the same family name but very little on the specific names she had given me. I recorded the other material on the off chance that it might relate to others in her family...
---
Destruction is coming to the South
Posted Tuesday, October 7, at 12:48 PM

Joshua, as you can see the Civil War wasn't fought in a day. Brother against Brother. In March 1864, Lincoln made Ulysses S. Grant, General over the head of the Union armies. General Grant had a plan to end the war. General Grant traveled east to fight General Robert E. Lee in Virginia. He sent General Sherman to invade Georgia. General Sherman had made up his mind that he would have a campaign of destruction that would bring Georgia to its knees...
---
General Robert E Lee Commander of the Confederate Army
Posted Wednesday, September 10, at 10:21 AM

General Robert E Lee Commander of the Confederate Army Robert E. Lee, Commander of the Confederate Army of Northern Virginia, became the most famous general of the Civil War. In a series of battles, he defeated one Union general after another. "General Lee knows his business and the army has yet known no such word as fail" - from the Charleston Mercury newspaper, December 1862...
---
Prisoners and Casualties of the Civil War
Posted Wednesday, September 10, at 10:21 AM

Joshua in your letter you asked why there were so many Civil War Veterans that lost their limbs?" First, you have to understand we didn't have modern medicine as we do today. Although the weapons and tactics of the Civil War made it the first modern war, the medical treatment was very primitive compared to what it is today...
---
Campaigns of 1862
Posted Wednesday, September 10, at 10:20 AM

Joshua, your Grandfather fought in The Battle of Shiloh. As the war entered its second year, pretty much everyone realized it would not be over quickly. There were two big Union campaigns in early 1862. In the east, General George McClellan launched a seaborne invasion of the Virginia Peninsula in a new attempt to capture the Confederate capital, Richmond. ...
---
The Soldier's Life
Posted Wednesday, September 10, at 10:19 AM

After, Pvt. Robert Samuel Brown had joined up he had to adjust to the hard realities of daily life of a soldier. Most of the soldiers lived on a boring diet of hard dry bread, dried salted pork, dried vegetables, and coffee. At night, they slept on the round, wrapped in blankets that they carried in their haversacks. ...
---
Civil War Part II
Posted Wednesday, September 10, at 10:18 AM

Last week Joshua wrote in and asked about the Civil War and wanted a mini series of what took place and why? Joshua, last week I told you why the Civil War came to be, this week will be about the Battles of the War...Beginning The birth of the Confederacy happened after Lincoln's election in December, 1860. ...
---
Civil War: The bloodiest Conflict in American History
Posted Wednesday, September 10, at 10:14 AM

This week, I received a letter from Joshua, that wants to know just why the war was fought and why there were two sides. First, Joshua, "No Question is a Dumb Question"! I think I can give you an answer in approximately three week columns. Civil War: The bloodiest Conflict in American History...
---
Sometimes It's Just That Easy!
Posted Wednesday, September 10, at 10:13 AM

I have received several letters with researchers becoming upset because they couldn't find what they were looking for when researching their family history. First, never quit researching. Believe you me, I have had my share of scanning indexes at the back of books for surnames till I thought my eyes would cross and remain that way the rest of my life. ...
---
Tinting Digital Photos
Posted Wednesday, September 10, at 10:12 AM

Tinting Digital Photos A hundred years ago professional photographers added charm and vitality to their black and white pictures by dyeing and hand-painting the images. You too can re-create this antique look in your own photos on your home computer. The best part? There's no mess. And if you make a mistake, you can undo it or start all over. You'll find step by step instructions at www.ancestrymagazine.com/january-february-2010. Follow my tips below for getting the best results...
---
Troublesome Middle Names
Posted Wednesday, September 10, at 10:10 AM

Troublesome Middle Names and Microfilm Reader Most of us have ancestors who were known by their middle names. In fact the naming pattern in some places and times placed an honorific first name ahead of the given name. William and Mary were common names in Virginia after settlers came to America...
---
Clampitt continued
Posted Tuesday, June 10, at 2:26 PM

Last week we took a step back and we talked about where the Clampitt/Clampit family ended up after the War Between the States. Like many families their lives had been turned upside down and inside out. But, they were strong and got through the war like other families did...
---
Festival on the Ridge
Posted Tuesday, June 10, at 2:23 PM

Ms. Genealogy By SYLVIA EVANS Festival on the ridge: history in the making Come see what the Poinsett County Historical Society is all about. Our booth will open at 9 a.m. and we will have historical photographs of Poinsett County on display. The purpose of the Historical Society is to acquire, preserve, and publish genealogical and historical data; and to provide its members and Poinsett County residents with the skills and knowledge to research their ancestors...
---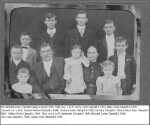 Clampitt Saga Part 5
Posted Wednesday, May 14, at 10:33 AM

Ms. Genealogy By SYLVIA EVANS Clampit Saga Part 5 Nothing is like a photograph to bring it all home to you. This week's article has a family photograph of the Richard Arlen Clampitt and Lydia Floyd Carter Family. Richard Arlen Clampitt and his wife, Lydia sent three of their boys off to the war in 1860, but not all would return back to the plantation...
---
Clampett Saga Part Two.
Posted Wednesday, April 16, at 10:53 AM

William Gove Clampitt died October 5, 1818 in Maryville, Blount, Tenn. and is buried at Baker's Creek Cemetery, Blount, Tenn. William Gove Clampitt married a second time to Mary Melvin and one son, Samuel, was born in 1770 in Kent County, Del. although he grew up in Wilkes County, N. ...

Read more

Browse comments (1)

Post comment

---
The Clampett Saga Part Four
Posted Wednesday, April 16, at 10:52 AM

When Mississippi seceded in 1861, William Gove Clampitt and his brothers, Richard C. and James A., joined Company E, 21st Miss Inf Reg (Hurricane Rifles) with Capt. Isaac Davis Stamps Commanding (nephew of Jefferson Davis). When they found that William was just 16 years of age, he was sent home. He was upset since he had already fought in several small battles...
---