Clampitt continued
Posted Tuesday, June 10, at 2:26 PM
Last week we took a step back and we talked about where the Clampitt/Clampit family ended up after the War Between the States. Like many families their lives had been turned upside down and inside out. But, they were strong and got through the war like other families did...
---
Festival on the Ridge
Posted Tuesday, June 10, at 2:23 PM

Ms. Genealogy By SYLVIA EVANS Festival on the ridge: history in the making Come see what the Poinsett County Historical Society is all about. Our booth will open at 9 a.m. and we will have historical photographs of Poinsett County on display. The purpose of the Historical Society is to acquire, preserve, and publish genealogical and historical data; and to provide its members and Poinsett County residents with the skills and knowledge to research their ancestors...
---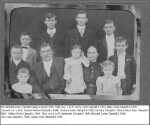 Clampitt Saga Part 5
Posted Wednesday, May 14, at 10:33 AM

Ms. Genealogy By SYLVIA EVANS Clampit Saga Part 5 Nothing is like a photograph to bring it all home to you. This week's article has a family photograph of the Richard Arlen Clampitt and Lydia Floyd Carter Family. Richard Arlen Clampitt and his wife, Lydia sent three of their boys off to the war in 1860, but not all would return back to the plantation...
---
Clampett Saga Part Two.
Posted Wednesday, April 16, at 10:53 AM

William Gove Clampitt died October 5, 1818 in Maryville, Blount, Tenn. and is buried at Baker's Creek Cemetery, Blount, Tenn. William Gove Clampitt married a second time to Mary Melvin and one son, Samuel, was born in 1770 in Kent County, Del. although he grew up in Wilkes County, N. ...

Read more

Browse comments (1)

Post comment

---
The Clampett Saga Part Four
Posted Wednesday, April 16, at 10:52 AM

When Mississippi seceded in 1861, William Gove Clampitt and his brothers, Richard C. and James A., joined Company E, 21st Miss Inf Reg (Hurricane Rifles) with Capt. Isaac Davis Stamps Commanding (nephew of Jefferson Davis). When they found that William was just 16 years of age, he was sent home. He was upset since he had already fought in several small battles...
---
The Clampett Saga Part Three
Posted Wednesday, April 16, at 10:51 AM

The Clampit family was for respect for the ones that dedicated their lives to something bigger than themselves. Samuel the grandfather at a young age went on a cattle drive out west to provide a new life for his family. His family never made it any further than Mississippi but Samuel did make it out to Montana. He returned home with his funds and began to make investments in real estate, his own plantation, and horses...

Read more

Browse comments (1)

Post comment

---
The Clampitt Saga Part One
Posted Wednesday, April 16, at 10:48 AM

Clampett, Clampet, Clampette, Clampitt, Clampit, Clampitte, Clampyette, Clamputte. The modern spelling of most English surnames is comparatively recent and is usually a phonetic rendering of the name which is found in parish registers of the seventeenth and eighteenth centuries. It should be noted that the name itself in its various orthographic forms may have been borne by the same family for a previous three or four hundred years...
---
Hometown Family Researcher Professional Genealogist
Posted Wednesday, February 12, at 1:38 PM

Genealogy as a pastime and professional job is very time consuming. When searching for a genealogist, there are desired qualities as a researcher. A genealogist should possess certain natural aptitudes, sharpened by experience. As a researcher they should be painstaking, thorough, and accurate. ...
---
Vital Records
Posted Friday, March 29, at 12:27 PM

The question this week is: What vital records are available to use in the United States? First we will talk about what records are vital records. For instance, information found about your ancestral families in census records must be verified by research in other primary record sources. Civil records of births, marriages, divorces, and deaths are just a few primary sources that can be your verification...
---
Queries
Posted Friday, March 8, at 2:36 PM

Two of the pleasures of genealogy are being able to share information with others and the discovery of relatives you didn't know you had. After you have obtained as much information as possible from your known relatives, you will want to get in touch with more distant relatives who are also doing genealogical research...
---
Correspondence
Posted Friday, March 1, at 12:58 PM

Let's begin to talk about scheduling interviews with your relatives, especially those who are older. Do not wait too long in contacting your relatives. Much information that is valuable and not available from other sources may be lost when one of your older relatives dies. If older members of your family are not available, interview an older person in the community who has known your family for many years...
---
Family Relationship: Interviews
Posted Friday, February 22, at 3:30 PM

Interviews are a lifetime of information about your family. Be prepared and organize your subject before doing your interview. Interviews are like winning the lottery it may only come around once and you don't won't to miss the chance of being the winner. By being the winner you might obtain prizes that are worth their weight in Gold. Priceless Family Information, Photographs, Letters and Perhaps the Family Bible...
---
Fill in the Blanks with Family Papers
Posted Friday, February 8, at 12:56 PM

Family Historians spend a lot of time with censuses, church records, personal papers, public documents, etc. but personal papers can be the goldmine, if you can find them. Even folks who couldn't read and write sometimes have correspondence that others would write and read for them, especially about important events in their lives and they would sometimes keep copies of legal documents that affected them...
---
Reliability of Sources
Posted Friday, February 1, at 12:48 PM

Every researcher runs into conflicting evidence at some point. This is one reason we must know where our information has come from to compare the reliability of the sources. The degree of reliability of a source is usually a factor of: (1) How soon after the event the record was created...
---
Fraternal Organizations
Posted Friday, January 25, at 1:04 PM

Many of our ancestors belonged to fraternal organizations such as the Masons, Elks, Odd Fellows, Forresters, Knights of Columbus, or others or they have memorabilia bearing strange initials. Rich Hertzog has created a website that lists hundreds of these organizations, with hotlinks to many of their websites. ...
---
Ancestral Death Records: Part 2
Posted Friday, January 18, at 1:44 PM

This is a continuation of last week's column, which was just too long for one issue. If you missed Part 1, just drop Ms. Sylvia, The Modern News, or The Poinsett County Democrat Tribune a note, and we will be happy to help you obtain a copy to you. There may be a cost for copies...
---
Searching for Ancestral Death Records: Part 1
Posted Friday, January 11, at 10:15 AM

Several genealogists have written in and asked. "Where do I look for a death record if there isn't a death certificate. Our society is extremely sensitive to the death of any of its members. I recently did a quick count and found well over twenty possible sources of information on an ancestor's death. You could probably add to my list and I certainly hope you do...
---
Adventures in Maps and Research
Posted Friday, January 4, at 2:32 PM

Calls and emails from readers are always bright points in my day. I enjoy meeting you, and I almost invariably learn something new from the contact. Sometimes it starts me on new research. I am probably a certifiable cartographer. I grew up on my great-grandfather's stories of travel and exploration and I really do love maps. ...
---
Who Do You Think You Are?
Posted Friday, December 28, at 1:54 PM

Currently there is a television program called, "Who Do You Think You Are? that is gaining in popularity as more and more people become interested in the stories of their ancestors. The Family History Librarian Kim Farah says genealogy is the fastest growing hobby in the World...

Read more

Browse comments (1)

Post comment

---
How to Use Tax Records
Posted Friday, December 21, at 1:06 PM

I try to answer every letter and email within the week. Researching family history has become a very popular and, for some people, a very consuming hobby. In all my columns I will explore the various documents and sources of information, how to gain access to them, how to overcome problems and "brick walls," and other sources of help. ...
---