Col. Thompson is hanging up his BDUs
Thursday, May 31, 2001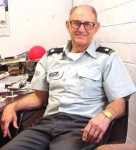 After spending the last six years of his career in Marked Tree as an instructor for the ROTC program, Colonel Billy Thompson is ending his 42-year career with the U.S. Army.
This time he is retiring for good.
He became an ROTC instructor after retiring from Fort Hood, Texas. He said, "I wanted to come home. Someone told me 'you've been an instructor before, you should look into ROTC.' So I did."
In 1983 he applied for a position at Newport, but it was filled. So he went to Trumann and to become an ROTC instructor.
In 1995, after a year of paperwork and a lot of support from community and state leaders, the Army granted Marked Tree School District the honor of offering ROTC courses at the high school.
Thompson was a key player in making the dream of ROTC in Marked Tree a reality. When the program finally came to be, he was appointed to the instructor's position.
Although he doesn't official retire until the end of June, he said he will miss the being around the young people. "It keeps you young," he explained.
Many at Marked Tree High School will miss Thompson.
Bryan Rozzell, one of Thompson's ROTC cadets said of him, "He's fun, but he can be very serious." Rozzell went on to say that he had learned a lot through ROTC and Col. Thompson, "He taught us to do teamwork."
After retiring, his immediate plans include keeping busy around the house, working on the yard and on his rental property.
He plans to do a lot of traveling eventually, as well.
Col. Thompson grew up on a farm south of Marked Tree, the son of C.P. and Guy Thompson.
After graduating from high school, Thompson went on to Arkansas State University on an academic and football scholarship.
After one year, he transferred to what is now known as Henderson State University. When Thompson attended the school, it was called Henderson State Teacher's College. While there, he played basketball and baseball.
He graduated from HSTC with a bachelor of science in mathematics and chemistry, and was commissioned second lieutenant out of college.
During his days of active duty in served two tours in Germany and two tours in Vietnam (which were served during the war) as well as one in Korea. His state side assignments included Ft. Meade, Maryland; Ft. Bliss, Texas; Ft. Polk, Louisiana and Ft. Hood, Texas.
During college days and all of his travels with the military, he somehow found time to meet and marry his wife, Joan, and have two children, Allan and Billy. Joan and he were married in 1960.
Somewhere down the line, his two little boys grew up and moved away. Billy moved to Memphis and Allan to Dallas. Both have established themselves in their careers.