CRDC conducts pilot SOS program in five counties
Wednesday, August 22, 2001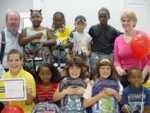 The Back to School S.O.S. blast off held at the CRDC (Crowley's Ridge Development Council, Inc.) Office located in Marked Tree last Friday was a huge success.
A total of 50 pre-registered children from Poinsett County school got a helping hand in obtaining school supplies.
CRDC services eight counties in the northeast part of Arkansas with 22 different programs. Five of the eight counties participated in the S.O.S. pilot program that distributed the basic school supplies to area children.
Parents from Poinsett County had to come in and pre-register their children for the child to be able to receive the supplies. Basics school supplies for kindergarten students were "kinder"mats, pencils, pencil boxes, colors, rulers, markers, loose leaf, paper folders, glue sticks, pens, scissors and spiral notebooks. Supplies for first to sixth graders were backpacks, pencils, pencil boxes, colors, rulers, markers, loose leaf, paper folders, glue sticks, pens, scissors and spiral notebooks.
Parents and their children from Poinsett County were allowed to visit the office in Marked Tree not only to pick up the school supplies but also to enjoy an afternoon of refreshments, information and fun.
During the information session of the afternoon, Marked Tree Police officer Jeremy Bond covered bus safety, the proper procedure for getting on and off the bus, child abductions, gun safety, playground safety and drug abuse.
Officer Bond informed the children that 26 kids were "killed" getting on or off a school bus in Arkansas last year and over 9,000 were injured nationwide. He stressed the importance of using proper procedures.
Bond said" when the bus stops to pick you up take 10 "Giant Steps" straight out in front of the bus and then cross over to the door, that way the bus driver can see you."
Bond gave other safety information and did finger printing for children that attended. According to Bond, the fingerprinting cards are given to the parents in case a child is abducted or lost. This gives police an avenue to begin with.
"Fingerprinting is important to the recovery of children, but as far as he's concerned but not as important as recent photographs and dental record. Kids grow and so do their fingerprints, about every two years you need to have a new fingerprinting done," Bond said.
After Bond's Safety presentation, kids and parents enjoyed refreshments and balloons, and they were able to pick up their supplies.
Poinsett County Judge Bill Craft and CRDC board president, Susan May, CRDC area coordinator for Poinsett and Cross counties, distributed the supplies.
"E. Ritter and Company of Marked Tree was the major contributor in Poinsett County making it possible to give to so many area children," Judge Craft said.
"KAIT out of Jonesboro came on board and was instrumental in getting the word out," Craft said. May expressed her appreciation to Wal-Mart in Trumann for their contribution.
May said "the program was such a big success this year, serving over 1,00 children in the five counties with the basic supplies with hope next year to expand to all eight counties and provide all requested supplies."
For more information on the programs available at the CRDC call the Marked Tree office at 358-3639.