Youth Football Appreciation dinner
Friday, November 30, 2001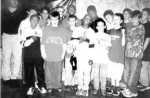 The coaches of the youth football teams celebrated a successful season recently with a dinner and awards presentation. The fourth and fifth grade team came in as runners-up in the south division of the NEA Youth Football League. The league has nine teams, Piggott, Rector, Manila, EPC, Trumann, Westside, Cross County, Harrisburg, and Marked Tree. Next year the teams will be in a new league with Piggott, Manila, EPC, Trumann, Rector, Marked Tree, Westside and one team to be announced, possibly Hoxie, Walnut Ridge, Newport or Harrisburg. To view the 2002 schedules see the www.eteamz.com/neafootball.
Approximately 100 team and family members were present to enjoy the grilled hamburgers, chips, dip, drinks and all the trimmings. Trophies were given and coaches received plaques recognizing the accomplishments of this successful season.
Team members are as follows:
Sixth Grade Football Team
Gavin Thompson, Dee Love, Loren Ghant, Robert Wallace, Nathan Ivy, Jonathan Tacker, Tyler Dunivan, John Ed Turpen, Absalom Scott, Jonathan Morgan, Ben Cariker, Seth McMunn, Gage Jennings, Jeromy Porter, Clint Hawkins, Zachary Wynn. Coaches for the team are head coach Ray Harsson and assistant coach Keith Pitts.
Fourth and Fifth Grade Team
Kelton Smith, Jonathan Addison, Kent Gray, Dillion Blansett, Richie Tate, Zachary Brown, Latre' Daniel, Corneless Jones, Justus McDaniel, Quincel Wilson, Chris McClain, Byron Martin, Ray Matos, Joshua Dabney, Justin Teague, Earless Coleman, Colby Tacker, Kamias Coleman, W. C. Tobar, Deonte Smith, Kendall Shelton, Kevin Addison, Dewayne Wilbanks. Coaches for the team are head coach Steve Clay and assistant coach David Pitts.
The cheerleaders have been very supportive and have assisted the teams in their success. They were included in the festivities and received awards and recognition as well.
Sixth Grade Cheerleaders
Anna Crow, Samantha Tanner, Paige Boxley, Antigonie Stacey, Courtney Malone, Alix Anne Wilcoxon, Erin Fields, Kimberly Harston, Amanda Reinhardt, Tiffany Williams, Sierra Harsson, Taylor Green, Alex Lucas, Yolanda Mundy, Lacey Brown, Lindsey Constant, Brittany Morgan. Coaches for the group are Sheila Harsson and Vickie Green.
Fourth and Fifth Grade Cheerleaders
Iesha Coleman, Shawanda Mitchell, Anna Thomas, Amber Ford, Hannah Ghant, Deziree Tull, Larika Travis, Emma Terrell, Christina Seales, Brittany Davidson, Davidson, Fierra Nichols, Amelia Stacey, Rachel Young, Kayla Wilbanks, Corye Jones, Shelby Beck, Myca Griffin, Katie Brooks, Currice Childs, Janet Buckley, Anna Beley, Marcia Buckley, Kyndall Ross. Coach for the team is Jennifer Massey.