A tribute to Chester Perkins
Friday, December 21, 2001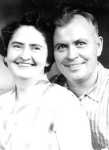 My family and I moved to the Black Oak community in early 1938. One of the first families we met was the Perkins family. My oldest sister, Gladys and Chester Perkins began dating shortly after we moved there. They married in October of that year.
Times were still not good. The depression was still very much a reality. Chester was so good to our family.
I remember he loaned us a radio and refrigerator. He was also very good to Gladys. On October 25, 1947, Chester hired me to help him run the county line store, known as Perkins Grocery. That began a period of over 40 years that we worked together.
We never had one argument. Chester Perkins is one of the best men I have ever met. In fact the Perkins family is one of the best families I ever knew.
Leo Perkins also married my sister Marie. He is the most giving person I ever knew. It's unbelievable, really how he has helped us here in the store. We have had some tough times, and he has always been there.
Oliver Perkins, Chester and Leo's brother used to run our store here on Sundays. He was always so honest and trustworthy. He was also a great pleasure to work with.
About four years ago, Gladys was in the hospital and the doctor told all the family she would starve to death and would probably not live very long, (a few weeks).
Chester was determined that she would not starve to death, so he began personally spoon-feeding her regularly. She is living today and doing much better. She is confined to the nursing home (Three Rivers). Chester is there all the time, every day until around 9:00 p.m.
Chester is now 85 years old. It has been one of life's great pleasures, knowing you Chester.