Sue Chambers, 'Special to the Tribune'
Friday, January 25, 2002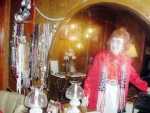 What does 'Special to the Tribune' mean. Well, most of the time it means that someone that does not belong to us (employee) has contributed writing to our newspaper, for various reasons. It may be that the writing appeared in another publication, or that the person doesn't write on a regular basis at all. Meaning, that it is a special event.
We at the Tribune have a person that is truly 'Special to the Tribune.' However, she belongs to us and has for over 25 years. This time, the meaning is true and specific.
Ms. Sue Chambers is truly 'Special to the Tribune.'
She is special to many in our area, especially Lepanto, where she has made her home since 1930. She and her husband Robert came to Lepanto just after they graduated from high school in Halls, Tenn.
Her grandmother, Mrs. John W. (Susan) Hall had settled in Lepanto in the early 1900's. They lived at 246 Alexander and owned grocery stores, along with Chambers dad and two uncles. Her dad came next from Friendship, Tenn.
Robert had majored in agriculture and was hired before arriving here by Mr. and Mrs. Deyerle who raised cattle. The Deyerle's were from England and brought over the Aberdeen Angus Cattle.
"Our people from Tennessee said we would never last, so of course, we had to prove them wrong." Chambers said. "It was hard at first, but we stuck it out, then we liked it and wouldn't leave for anything." "This was 'new country' then." "There's something very enticing about going to 'new country,' she said.
Her first son, Bob (Robert, Jr.) was born in 1933, attended Freed Hardeman University in Henderson, Tenn. and died in 1992. He was a computer programmer. Her second son, David was born in 1944. He graduated from University of Arkansas, is a Chemical Engineer and lives in Kansas.
"When we moved here there was no road to Rivervale yet," she said. "In fact, I've seen lot's of changes in my lifetime."
Chambers started working for the Thomas and Morris Department Store when she came to town. Shortly thereafter, she began working for Ester Bindursky at the Lepanto News Record. She was part of the package when the Tribune bought out the Lepanto newspaper, and has been a vital asset to the City of Lepanto and to the newspaper since.
Chambers aunt, Mrs. Barnes, and grandmother Mrs. John W. (Susan) Hall were good friends with Mrs. Byler, wife of Dr. C. F. Byler. The Byler's had much land that they farmed, in and all around Lepanto. When the Deyerles' stopped farming, because of the connections of the families and the reputation of Robert, he became farm manager for Dr. Byler. That relationship lasted until his death in 1976.
The Bylers' were very wealthy and generous people. Many of the memorable things Chambers has retained over the years came by way of gifts from the Bylers'.
Anyone who visits with Chambers at her home would definitely want to browse and take their time. The collectibles, the artistry, the furnishings all have a very interesting story.
There at the kitchen, one of the first things you notice is her plate collection. One in particular, over the door to the dinning room, is a row of antique, hand painted plates depicting George Washington's reign from soldier to the signing of the Declaration of Independence. Those were special purchases from Murphy's Hardware, and are one of a kind.
Also in the kitchen, hangs a large picture of Robert Chambers, with all the members of Chambers family flanking each side.
The dinning room sports the fabulous hat collection. Chambers is known to like hats and many of her friends help her collect them. In a place of distinction in the doorway between the dining and living room, hangs one special hat with 'Sue' on the front of it. That hat was a gift from Chambers very special friend, Judy Bradford.
The unique living room has so many treasures. An antique Chippendale sofa, given to her by Mrs. Byler, came from Dr. Hardeman's home, the President and founder of Freed-Hardeman University in Henderson, Tenn. A painting over the fireplace is an oil created by Mrs. Hargett. She was an art teacher for some years in Lepanto. "She had everyone in town painting. Of course the paintings were all good, because she finished them and made sure they were good," Chambers said.
In front of the painting on the mantle, stands a beautiful hand painted blown glass vase. On one of her trips to Europe, Mrs. Byler found the vase. She fell in love with the vase for her daughter, Bonnie. She coddled the vase all over Europe and got it home, only to find that Bonnie didn't like the vase at all, so she gave it to Chambers instead.
The coffee table in the living room is an ornate gold overlay, claw feet oval table with glass top. This also was a gift from Mrs. Byler.
Among her other collections are bells, demitasse cups, antique books, and jewelry. When Mrs. Byler died, she left her jewelry to Chambers. Others remember her from time to time with gifts as well.
In their early years in Lepanto, a pharmacist from Tennessee came to town. His name was Bill Jones. He had brought many antiques, one of which Chambers obtained for her bedroom. It is a round mirrored, low rider, two-drawer dresser.
Next is the den, where the rare books, demitasse cup collection and bowling trophies of her husband are housed. Also, on the far wall, you will find a bridle that is called "Old Tinny" that belonged to Chambers mother, Myrtle Hall Latham.
If you are an overnight visitor at the Chamber's residence, you are in for a special treat. You will stay in the 'play house.' Out back, Robert built a guesthouse, after they moved into their new home in 1950. The 'play house' is well equipped for entertaining company and maintaining everyone's privacy, which is essential, according to Chambers.
When you arrive at the Chambers home, it has a distinction all it's own, like it's resident. The house was built for the Chambers' by Jim Hendrix, and is a testament today of his craftsmanship.
The resident on Maple Street, in Lepanto is indeed 'Special to the Tribune." We salute Sue Chambers for her contribution to the world she lives in, and we are pleased to be a part of it.