Teen P.R.I.D.E.
Thursday, February 28, 2002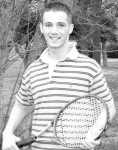 Peers Rewarded In Delivering Excellence
By AMMI LUNG
Tribune Staff
Whether it be sports, clubs, or academic organizations, most students are involved in at least one extra-curricular activity or group. They find something of interest, and they dedicate their personal tine and effort to it. For Jason Davis, it's tennis.
Davis is a senior at EPC this year, and it the son of Teresa and James Davis of Lepanto. He played tennis for four years. One of those was spent at Bradley Bourbonnais High School in Bradley, Ill. There, the sports were class 6A as opposed to the 3A classification of EPC. Although the sports were much harder, he still achieved All-City and All-Conference titles.
Competition is Davis' favorite thing about tennis. The thrill of battling the opposition and the pride of victory are just two of the elements that have intensified his love for the game. He exemplified this when he stated, "We're (EPC) going to win state this year... GUARANTEED!"
Davis is also a member of FFA and is the president of the Math & Science Club.