Norma Jean Smith
Thursday, February 28, 2002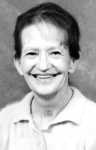 Norma Jean Smith, 63, of Lepanto died February 24, 2002 at St. Bernard's Regional Medical Center in Jonesboro. She was born Dec. 21, 1938 in Lepanto. She owned and operated Riverside Caf in Lepanto and was member of the Church of God.
Survivors include her husband, Jimmy H. Smith of Lepanto; two brothers, Harold Clark of San Fernando, Calif. and Gerald Clark of Clarksville, Tenn.; two sisters, Elizabeth Riddle of Omaha, Neb. And Sarah Case of Lepanto; one daughter, Karla McGuire of Manila; two sons, Kenneth Wiggins of Lepanto and Kirk Wiggins of Maryland; five grandchildren, and two great-grandchildren.
Funeral services are Feb. 27 at 10:00 a.m. at Murphy Funeral Home Chapel in Lepanto, Brian Monehan officiating, followed with burial at Potter Memorial Cemetery under the direction of Murphy Funeral Home.