Johnson appointed U of A trustee
Saturday, March 30, 2002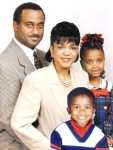 Delta Life News Staff
Dr. Carl Johnson is a modest, humble man who has it all. Of his many winning traits, one that stands above all the rest is his kindness to everyone.
His resume reads like a who's who' of VIP's that will measure up to any you could find.
Dr. Johnson, son of Mr. and Mrs. Cleo Johnson, Jr. of Marked Tree and 1977 graduate of Marked Tree High School, on February 11 was appointed by Governor Mike Huckabee to serve on the board of trustees of the University of Arkansas. Johnson replaced a black physician on the otherwise white board and felled the controversy in his usual calm way with, "I am deeply honored by the appointment and am not the least bit concerned over the controversy." Although the Governor apologized for the situation that almost created the first all white UA board in 30 years, Johnson noted that he and the governor had a good working relationship and similar views. He sees the appointment as a positive thing and plans to serve with the same fervor that has been his trademark in all his endeavors.
Dr. Johnson comes from a long line of successful people. His family, well known and respected, dedicated, enthusiastic and dependable folks, who have contributed greatly to the community over the years. It's only fitting that a son of such acclaim would derive from these great beginnings.
Johnson has been a winner' from the very beginning. Graduating 3rd in his class at Marked Tree, he excelled in baseball, basketball, football and track. He received Outstanding Student in the Mid-South, American Legion's Boys State, American Legion's Boys Nation and Who's Who Among High School Students in America.
At the University of Arkansas, Fayetteville he graduated Magna cum Laude in Zoology with high honors. Still he managed to be active in many organizations: Mortar Board Scholastic Honor Society, Blue Key Honor Society, Cardinal Key Junior Honor Society, Phi Eta Sigma Scholastic Honor Society, Alpha Lambda Delta Scholastic Honor Society and was named Who's Who Among Students in American Colleges and Universities.
Among his other credits in education was a one year stint at Harvard Medical School. Eight more years of specialized medical education produced an Internal Medicine Specialist of the highest degree.
Still, Johnson is a family man with varied interests. He has a thriving practice in Little Rock, has served on several hospital committees, is an active board member on U.A.M.S.; Arkansas Health Services Commission, Little Rock Airport Commission; US Bank Board of Directors and manages time to serve his community in several organizations.
Married to an attorney, with two children of his own, Dr. Johnson has high expectations for the youth of today. His positive attitude and desire to succeed are powerful for anyone to emulate. "Dreams are to be achieved with hard work, determination and the willingness to pay the price," he said. Anyone can achieve their goals if they want to work for them. He is not a man to look for excuses. He will serve the University of Arkansas with the same strength of character that he brought to Little Rock from his humble beginnings in Marked Tree, Arkansas.