Memphis author gives book review to MT Friends of the Library
Thursday, June 6, 2002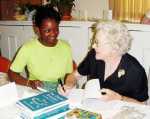 The Marked Tree Friends of the Library hosted the Eleventh Annual Luncheon and Book Review on Tuesday, June 4. Anne Norris, member of Memphis Storyteller's Society, gave a review of her book, The Charm Bracelet and Other Stories.
Norris entertained the crowd of over 115 as she recounted side-splitting tales from The Charm Bracelet and Other Stories. The book includes 28 short stories, seven devotionals, and some poetry written by Norris.
The tables in the First United Methodist Church were decorated with small potted plants and books from the library. Marion Dawson, assisted by Joan Thompson and Mary Smith, prepared a lovely meal of creamy baked chicken, buffet green beans, corn pudding, sour cream biscuits, poppy seed muffins, peaches with mince meat, and pineapple cherry delight for desert.
Honored guests included Citizen of the Year and Marked Tree Librarian Martha Watson, Lepanto Librarian Lily Neal, Director of Crowley's Ridge Regional Library System Phyllis Burkett, Marilyn Griffin, Poinsett County Library Director Nechia Whittingham, Harrisburg Librarian Lucille Reeves, Patsy McClain, President of the Lepanto Friends of the Library Guana Combs, Rev. Bob Hagar, Fonda Condra, Thelma Jett, Marion Bearden, Bill Craft, Wayne and Gail Nichols, Mike Everett, Lawrence and Glenda Ashlock, Johnny Rye, Jr., and author Anne Norris.
The luncheon is a largest fundraiser for the Friends of the Library, with the exception of corporate sponsors. Funds raised help the organizations support the library and its growing needs. The friends of the library are responsible for all the maintenance on the new building, as well as the telephone bill and janitorial services. They help the library any special needs that the county and the regional board cannot fund, like the new mirrors that allow the librarian to view everything from the circulation desk. The volunteers help read to the children in schools and at the summer story time. Funds also go toward matching Libri grants. In the near future, they will be having a fund drive to raise money for the library system
"They're our guardian angel!" said librarian Martha Watson. "They don't only shine at the luncheon, they shine daily."