Little League tournament held in Marked Tree
Thursday, June 6, 2002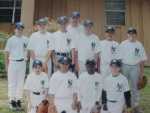 On April 27, an official Little League Tournament was held in Marked Tree. There were four teams and they were coached by Shawn Carter, Josh Brown, Marshall Grant and Luke Lovins. The reward for the winner would be a trip to Newport to compete with All Star teams from around the state in another one-pitch tournament.
The Marked Tree Tournament was a double elimination tournament that was officiated by the official Little League one-pitch tournament rules. The whole tournament was played in one day. The Yankee coached by Josh Brown, lost their first game, but came back to win five straight games and took the tournament.
The Marked Tree Yankees went to Newport to play in the statewide tournament on Saturday May 25. They were the only inner-city league team to participate. All other teams were traveling city teams. The Yankee lost pretty badly to Newport, but came back heavily in there second game with Rector. The Yankees were ahead going into the bottom of the last inning 3-2 where Rector came back to win by a single point. The Yankees represented Marked Tree with good sportsmanship and were invited to another tournament to be held at the end of the season. Good Job Boys!