Little River Bank welcomes new president
Thursday, July 18, 2002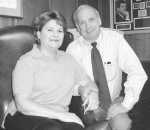 Lepanto's Little River Bank welcomed Tommy Hargrove of Newport, as its new bank president on Monday. Hargrove offers the Tri-City area a wealth of banking expertise through his experience. He was previously employed in Newport with Union Planters Bank, headquartered in Memphis. He has also served the Warren Bank and Trust as executive vice president and chief operating officer, in Warren, Ark. and in Holly Grove, Ark. as bank president.
Hargrove graduated from Arkansas State University with a degree in Agricultural Education. After teaching Vocational Agriculture for four years, Hargrove said he, "began working for the Production Credit Association, or Farm Credit, as it is known now, in 1964," and he has been involved in either banking or finance since that time. Hargrove also completed the program at the LSU School of Banking of the South in 1976.
Hargrove plans to move to Lepanto once he and his wife, Judy, sell their home in Newport. They have grown children who live in Brinkley, Cabot, Warren and Knoxville, Tenn. They also have two granddaughters, ages eight and three.
When asked about his plans for the future of Little River Bank, Hargrove responded, "We want to continue to provide the level of customer service that people are accustomed to. Our door is open any time; I'm not a nine to three banker, I bank 24-hours a day. So, people will have my home phone number and people will be able to get in touch with me at home. I want to be a part of the community."
Hargrove plans to be active in the community through church and organizations. He said, "I am in Lepanto because I want to be here. I enjoy small towns and small town banking."