MTHS attended UCA cheer camp
Thursday, July 18, 2002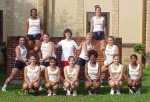 UCA Cheerleading Camp was at the Marked Tree High School on July 1 through 3. Lindey Sanders was the UCA Cheerleading Instructor. The cheerleader won eight first place ribbons and a first place trophy for performances in cheering, dancing and gymnastic stunts. They also won the "spirit stick" for their enthusiastic team spirit.
The UCA cheerleader judged 11th- and 12th-grade cheerleaders to determine their captain and Robin Rye was chosen.
Susan Walker Garner, sponsor, was very proud of the cheerleaders' accomplishments and their intensive teamwork and spirit.