Marked Tree prepares for home stretch, against district teams
Thursday, September 19, 2002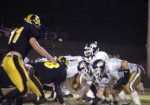 After coming off a 20-6 victory Friday night at Salem, the Marked Tree Indians return home this week to begin the first of a two-game home stand against the Earle Bulldogs. Speaking about the game Friday night, Marked Tree head coach Tim Branum told Delta Life that his team played harder and regrouped, in lieu of an opening loss versus EPC. Branum said, "Overall, we played with intensity. Daniel Craig and Brandon Gillis played well on defense. Craig had 11 tackles and two assists and Gillis had seven tackles and one assist. The effort was better (this week.)"
Earle, 4-6 last year, is currently 1-1 on the year, coming off a 30-6 victory over Palestine-Wheatley last week. The Bulldogs return 10 starters each and have two players who combined for over 1,400 yards last year. Quarterback George Dyson and tailback Robin Jones lead the Earle offense that has scored 52 points in two games.
Marked Tree received a big boost offensively last week, with running backs Anquion Williams and Kelsey Snow, along quarterback Sugar Ray Jones picking up over 300 yards in offense against the Greyhounds. Branum also added that Wade Hawkins added several key plays on special teams in the game.
After the Earle game, Marked Tree faces another 3AA team, Parkin, at home. Game time for the Earle game is 7:30 p.m.