EPC defeats Blytheville, in opener
Wednesday, November 27, 2002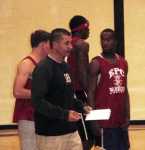 The East Poinsett County senior boys basketball team started its season off with a bang, last Saturday night as they defeated AAAAA team Blytheville 54-46, in high school basketball action.
Coming off a scrimmage game Friday in Lepanto, EPC appeared sluggish in the first quarter, trailing 9-8 to the Chickasaws. However, in the second quarter, EPC was led by 6'6" forward Marcus Monk to a 29-18 lead at halftime. Monk led the Warriors with 24 points, 14 rebounds, seven steals and four assists. Monk was 13-20 from the foul line and one for two from three-point range. EPC also received contributions from a group of talented juniors and seniors, with Zac Patterson picking up 11 points and five rebounds, Boo Collins scoring nine points, four rebounds and two steals and P.J. Lacy picking up nine points and six assists. Their work gave EPC a commanding 41-34 lead after three quarters and set up the win. First-year head coach Kevin Kyzer told Delta Life that while the team appeared sluggish Friday night, the overall play of the Warriors was better in Saturday's game. Kyzer said, "Our fundamentals were better and the movement was good. We did an excellent job rotating and blocking out, around the ball. However, we missed 13 shots in the paint Saturday. This might come from players being rusty because of football."
EPC (1-0), as of this writing, will play the defending AAA state champion Hughes Monday night in Lepanto and travel to Altheimer on Dec. 2, for a key non-district game.