EPC boys sweep Hughes, prepare for tournaments
Tuesday, December 10, 2002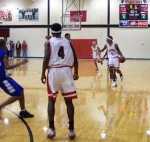 In action last week, the East Poinsett County boys basketball swept the defending Class AAA state champions in games played in Lepanto. In the senior boys contest last Monday night, three players scored in double figures, as EPC defeated Hughes 58-46 at Warrior Gym. Marcus Monk led EPC (2-0) with 23 points, while Zach Patterson scored 14 and Spencer Harston added 10 in the victory. EPC led throughout the game, leading 16-8 after one quarter, 30-24 at halftime and 43-35 at the end of three quarters. EPC also won the junior high game 46-44 versus the Hughes Blue Devils.
EPC next turns its attention this weekend to one of the biggest tournaments in Northeast Arkansas: the KFC-Taco Bell Classic. The three-day tournament, held at Jonesboro High School and played at Hurricane Gym, spotlights some of the best teams in Eastern Arkansas and West Tennessee and gives college scouts an opportunity to see the talent on display. In its first round game, EPC faces AAAAA team Russellville Thursday at 5:30 p.m. The Cyclones, of the AAAAA-West are a consistent top-ten team in Class AAAAA, playing in one of the toughest districts in the state. The winner of the EPC-Russellville game faces the winner of Hughes-Memphis Overton Friday at 5:30 p.m. If both EPC and Hughes win their first round games, it sets up a rematch between the two teams on a neutral court. Other teams competing in the tournament include host Jonesboro, AAAA-East team Greene County Tech, Drew County Central and Memphis Trezevant.
After the KFC-Taco Bell Classic this weekend, EPC returns home next week to compete in the Tri-County Tournament on their home court. This year's Tri-County Tournament will not be short of talent, with EPC, Manila, Riverside and undefeated BIC all battling for the championship. Coverage of the KFC-Taco Bell Classic and the Tri-County Tournament will appear in Delta Life in the next few weeks.