Area teacher wins National Award
Friday, December 13, 2002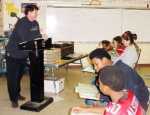 A nationally-known educational program recently honored a Marked Tree High School teacher, for his work in building standards at his school. The National Board for Professional Teaching Standards awarded Rick Hatley, a high school math teacher, the honor of becoming a National Board Certified Teacher. The NBPTS measures teachers throughout the United States against high and rigorous standards. The National Board has three major components in discovering bright, talented teachers. They are: establishing high and rigorous standards for what accomplished teachers should know and be able to do; develop and operate a national voluntary system to assess and certify teachers who meet these standards and to advance related education reform for the purpose of improving student learning in American schools. The NBPTS was founded in 1987 by a group of state governors, teacher union and school board officials, administrators, college and university officials, business executives, foundations and citizens. The NBPTS also has a board of directors that stresses basic reform in American education and that strengthening teaching and teachers is a key to the reform.
Hatley, who teaches Algebra I, Algebra II, Geometry and Trigonometry in grades 7-12, told the Tri-City Tribune this week that the process of becoming a board certified teacher was a long one, taking three years and completing numerous tests. Hatley said that the NBPTS tests teachers in ten areas, dealing with their subject area. The testing includes completing papers, producing videos of his class, working with peers and showing progress of his work to his community. The work completed on each subject, says Hatley, includes completing 10 hours of testing in the subject. Hatley's testing included Algebra, Geometry, Discreet Math and Statistics. The award also has a financial component, with Hatley receiving an additional $2,000 a year as a result of winning the award.
As for support from the school district and the community, Hatley said that the support has been tremendous and has led to better rapport with teachers, parents and students. Hatley is one of four teachers in the state of Arkansas to receive the honor.