Arkansas State Highway Commission opens bids for improvements in Poinsett County
Friday, December 13, 2002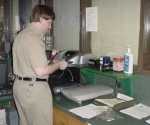 LITTLE ROCK - The Arkansas State Highway Commission has opened bids for a project to improve a Poinsett County roadway, according to Commissioner J.W. "Buddy" Benafield of Hickory Plains.
The purpose of the project is to construct an interchange on Highway 63 at Highway 149 in Marked Tree and to extend the north frontage road along with a new frontage road on the south side at the Highway 75 interchange at Marked Tree. Ronald S. Terry Construction Company, Inc. of Memphis, was the apparent low bidder at $7,449,228.01.
"This project is one of several scheduled over the next two years that will upgrade this highway to Interstate standards," said Benafield. "Upon completion, this will become Interstate 555."
Benafield said construction could begin in six to eight weeks, weather permitting. Completion is expected in early 2004.