Girl Scout volunteer awards presented
Thursday, April 3, 2003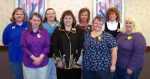 Volunteers from the East Poinsett Girl Scout Service Unit were recently honored at the Girl Scouts of Crowley's Ridge Council Leader Recognition Banquet. Adult Girl Scouts from Northeast Arkansas were singled out for their outstanding dedication and service to the Girl Scout program.
Service Team Manager Tammy Tyler was presented the President's Award for achievement of high membership standards, the 100% Sponsorship Award and the 100% of Membership Goal Award. In addition, East Poinsett was awarded first place in Membership Growth for the total council, for a 52% membership increase.
Peggy Rathbun of Trumann was presented the Outstanding Leader Award, which recognizes outstanding troop leadership qualities in the delivery of Girl Scout program to girls. Tabatha Burcham of Lepanto was presented the Outstanding Volunteer Award which recognizes outstanding service that benefits the service unit. Michelle Price of Trumann was honored for her enthusiasm as "Rookie of the Year."
Tammy Tyler was recognized for her outstanding efforts to refurbish the Lepanto Girl Scout House.
Tammy Tyler received a 15 Years of Service Pin, receiving 5 years of service pins were Jaelu Simmons, Denise McGhee, Millie Walton, Doris Armstrong and Melanie Morin.
Tracy Carter and Connie Bromley received the Leadership Development Pin in recognition of continued training.
Girl Scouts of Crowley's Ridge Council is a non-profit United Way agency, which serves girls and adults in 12 Northeast Arkansas counties through a variety of programs and activities.