Late surge gives Bay win over MT, in baseball action
Thursday, April 3, 2003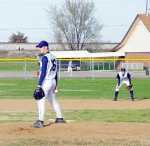 What started as a pitcher's duel quickly changed Monday afternoon, as Bay scored five runs in the final two innings to pick up a 6-2 victory over Marked Tree in high school baseball action.
In the 3AA-South district game, played at Marked Tree, the Yellowjackets overcame a slow start and took advantage of several key Marked Tree miscues to pick up the victory. After a scoreless first two innings, Marked Tree's bats came alive as the Indians scored a run, on a Will Drace RBI single. Marked Tree took a 2-1 lead after five innings, based in part to a good pitching performance by Brandon Gillis. Gillis pitched a complete game, giving up only two hits against Bay.
However, in the seventh inning, Marked Tree came apart as Bay scored four runs, on two errors, two walks and two hit batsmen to pick up the win. Brett Hogan led Bay offensively, going 2 for 3 with two stolen bases. Brayden Malone and Wade Hawkins each went 2 for 3 for Marked Tree, while Jeffrey Thompson went 2 for 4, with a triple. Bart Hogan picked up the win for Bay, while Gillis picked up the loss for Marked Tree, who next sees action Thursday with a home game against Cross County at 4:00 p.m. On Friday, the Indians travel to Brookland for a key non-conference game. On Saturday, Marked Tree hosts Riverside in a doubleheader. Game time is 2:00 p.m.
Over the weekend, Marked Tree participated in the Batesville Invitational Tournament, competing against several tough teams. In the first round, played Saturday, Marked Tree's bats were as cold as the weather as Heber Springs defeated Marked Tree 19-3. In their first night game of the season, Marked Tree committed three errors in the second inning and opened the floodgates. With the loss, Marked Tree enters the losers bracket where they will play Walnut Ridge Tuesday afternoon. Coverage of that game, along with this week's games will appear in next week's Tri-City Tribune.