Dollar Cotton review
Tuesday, April 29, 2003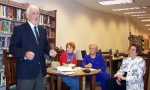 Jim Warren reviewed "Dollar Cotton" at the Goldsby Library in Lepanto.
In 1942, John Faulkner (1901-1963) published Dollar Cotton, his only work set outside the Mississippi hill country. It tells the story of Otis Town, who around the turn of the century, acquires a virgin tract of Mississippi Delta and after tremendous efforts turns it into a lucrative cotton plantation, only to lose everything in the recession of 1921 when the cotton market collapses.
Afterwards, a discussion was held by those in attendance on similar incidents relative to the book. H.C. Bradford related stories told to him by the late Coleman Jernigan on how some of the large landowners in the area acquired their holdings, explaining how laws were lacking during those times and one could get around differently from today's laws.
After the book review, Friends of the Library served refreshments to attendees.