EPC loses two, as season ends
Tuesday, April 29, 2003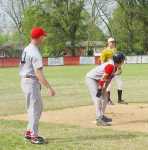 The East Poinsett County baseball team ended its season this week, as the team lost two tough ballgames. Last Wednesday, EPC ended its regular season schedule with a home game against Trumann in Lepanto. With the winds, blowing out to left field at around 40 mph, Warrior Park quickly turned into a hitter's paradise, as both combined for 28 runs and over 30 hits. However, a big third inning for the Trumann Wildcats was the difference in a 19-8 victory by Trumann over EPC. With EPC leading 8-3 after two innings and a seven run explosion by EPC in the bottom of the second, Trumann scored 11 runs in the top of third off EPC pitching. Trumann was led by the hitting of Revis Kemper and Zach Wilson. Kemper and Wilson each connected on home runs and scored four times to lead Trumann to victory. EPC was paced by Brandon Fortenberry, who led EPC going 3 for 3, with two runs scored. Billy McDaniel, Carl Porter and Jared Wyatt each went 2 for 4 to help EPC. The heavy winds last Wednesday did cause some damage to Warrior Park, with the fencing along the third base line coming loose from its hinge. Also, an oak tree near the left field fence was split into, due to the wind.
With the regular season ending, EPC then turned its attention to the 3AAA-South District Tournament, being played at Harrisburg High School. In a first-round game, played Friday morning, the Manila Lions hammered the EPC Warriors 15-1 to advance to the second round. Jared Camp picked up the win for Manila, while senior Brandon Fortenberry picked up the loss for EPC. Manila scored five runs in the first inning, three runs in the third and seven runs in the fourth to pick up the win. Jared Wyatt led EPC, going 3 for 3, while Marc Smith went 1-2, with a triple.
EPC ends its season 8-14 on the year, under first-year coach Gary Williams. Williams is leaving coaching this year, to become the high school principal at EPC.