Law enforcement, EMT's stress evils of drinking, driving in exercise
Thursday, May 8, 2003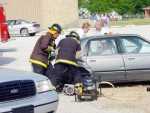 Tribune News Staff
Minutes. Seconds. They all matter when lives are on the line. So was the message in an accident recreation last Thursday in Marked Tree. In the recreation, held at the Marked Tree baseball field, law enforcement, along with EMT's from Riverside Ambulance Service worked to remove three individuals from a car, all were suspected to be under the influence of alcohol, all with Marked Tree High School juniors and seniors watching on.
Law enforcement officials and EMT's went through every step of working an accident scene, from getting the names of victims, treating the victims to arresting those who are under the influence of alcohol or drugs. Several area residents acted as victims or family members to send the point home that drinking and driving creates an impact on the victim and the family. Event coordinator Sgt. Jeremy Bond of the Marked Tree Police Department told the Tri-City Tribune that the exercise was used to bring awareness to the problems of drinking and driving. Sgt. Bond said, "We did the exercise to make them (teenagers) aware. Drinking and driving is the number one killer of individuals 16-24. Three out of 10 individuals are involved in an alcohol-related accident. Of those three, one out of three will be intoxicated and die before age 24."
Bond added that the actions of drinking and driving can "catch up" with individuals who may not think that drinking and driving can hurt them. Bond said, "We need them to make good decisions and if we keep just one or two from getting drunk, we are doing our job." Bond, along with Riverside Ambulance Service are hoping to make the exercise a yearly event, with perhaps asking to bring EPC juniors and seniors over to Marked Tree next year to watch the exercise. Bond added that both Marked Tree High School and the community have expressed positive responses on the exercise that also featured the Hospital Wing helicopter.
Those participating in the exercise were the Marked Tree Police Department, Marked Tree Fire Department, Riverside Ambulance Service, Hospital Wing and Rusty's Garage, who donated the vehicle used in the exercise.