Poinsett County CERT holds graduation ceremonies
Friday, October 3, 2003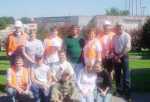 Several residents of the Tri-Cities area recently received training that will help area police and fire departments in dealing with natural disasters and possible terrorist attacks.
In ceremonies, held earlier this month, the Poinsett County CERT program graduated 15 students from throughout Poinsett and Mississippi counties, who spent six weeks studying various aspects of medical training, search and rescue techniques and how to work at natural disaster areas. The class met on Monday nights at the Tyronza First Baptist Church basement, for approximately two and a half hours each session to complete the course, which is the first ever class conducted in Poinsett County.
Poinsett County CERT coordinator Jerry Collier told the Tri-City Tribune this week that the class concluded on Sept. 6, with a graduation exercise at the Tyronza Fire Department. During the exercise, the class set up triage areas outside the fire station, with classmates acting as either patients or searchers for the exercise.
In other news, Collier told the Tri-City Tribune that the group is in need of donations from the public, including generators, heavy lights and chainsaws that will help to remove debris from disaster areas. Collier also announced that through the work of Poinsett County Emergency Management Coordinator Merle Williams, the American Red Cross office in Jonesboro have agreed to hold classes for the group, including dealing with Shelter Operations, Feeding the Injured or Effected, Damage Assessment and CPR courses. Classes will continue on a monthly basis, with regular meetings being held to improve the know-how of students.
Those who graduated the first course of CERT include John Cook, Regina Collier, Joe Byrd, Cordell Laden, Sandra Laden, Randy Churchwell, Joe Glidewell, Chris Collier, Aaron Fox, Jerry Collier, Michelle Hawkins, Amber Collier, Lance Tarlton, Earl Owens and Paul Hindman.
For more information on the CERT program, call Jerry Collier at 487-2144 or email Collier at fireman72386@yahoo.com.