Storms hit area with fury
Wednesday, June 2, 2004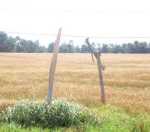 Tribune News Staff
Area residents headed for cover Sunday night as a strong thunderstorm, with the spotting of one tornado made a Memorial Day weekend interesting for residents and local authorities alike.
As heavy winds moved into the Tri-Cities area late Sunday afternoon, the winds brought unstable air into the area, causing problems all afternoon. As nightfall approached, a strong line of thunderstorms, with winds in excess of 70 mph went through Poinsett County, hitting towns like Weiner and Waldenburg along the path. The Memphis office of the National Weather Service reported Tuesday that a thunderstorm, with wind damage caused power lines and trees to fall down on Ark. 49, near Weiner. The NWS also reported that a trained tornado spotter spotted a tornado, three miles west of Marked Tree, along Ark. 140 at 8:45 p.m.
Within minutes of receiving word of the storm, area residents found cover at various tornado safe rooms in the area, using both safe rooms in Lepanto and Tyronza. Residents spent most of Monday cleaning up the mess from Sunday night's storm. While areas near Lepanto, Marked Tree and Tyronza had little tree or property damage, most of the outlying areas in Poinsett County received some damage. Poinsett County Sheriff Larry Mills told the Tri-City Tribune that there was some property damage at Poinsett Rice and Grain in Waldenburg, with trees down in the Central area near Trumann and a tree hitting a trailer on Pritchett Road near Lepanto. Also, there was damage to several power lines along Ark. 135 between Lepanto and Tyronza as one pole was snapped into by the force of the winds.
The storm, which left the area Sunday night traveled into western Tennessee and southeastern Missouri late Sunday night.