Hardin leads EPC to victory, in junior high action
Wednesday, September 8, 2004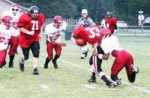 It was the one-two punch last Thursday night, as the East Poinsett County Junior Warriors faced a tough Earle team that was intent on winning the game, EPC's first game in Class AA in six years.
However, the potent EPC offense, led by quarterback Brett Hardin moved the football down the field in a 16-6 victory over Earle in junior high football action.
Hardin, a freshman provided the one-two punch in the air and on the ground, as he had 246 total yards to lead EPC. Hardin rushed for 115 yards on 17 carries and was 9-14 passing, for 131 yards. Hardin also provided the touchdowns to lead EPC in the game, which was the regular season opener.
EPC was first on the scoreboard, late in the first quarter. With 1:43 left in the opening quarter, Hardin scored on a five-yard touchdown run to give EPC a 6-0 lead. The two-point conversion was good and EPC led 8-0. Earle battled back in the second quarter and attempted to cut into the EPC lead. With 5:55 left in the first half, Earle running back Donald Ward moved past several EPC defenders to score on a 50-yard touchdown run. However, the two-point conversion was no good and EPC led 8-6.
The Jr. Warriors ended the first half with a scoring drive that provided the difference in the game. With one second left in the first half, Hardin scored his second touchdown, a one-yard scamper on a quarterback sneak to seal the win. The two-point conversion was good, on a pass from Hardin to Jay Meeks, capping the scoring for both teams.
In the second half, the Earle Jr. Bulldogs attempted to fight back but were stopped by the EPC defense. In the third quarter, EPC had an 18-play, 60-yard drive that appeared to confound the Earle defense and took time off the clock. However, EPC had a loss of downs on the possession and Earle attempted to take advantage of the situation.
On second down and 15, from their own 6, Earle quarterback Steve Meridith picked up a 56-yard gain to the EPC 38. However, EPC battled back on defense and stopped the Earle run.
EPC was led in receiving by the pair of Adam Chamberlin and Chris Davis, who helped EPC in long-yardage situations. The two combined for 95 yards on seven plays. EPC had 282 total yards in the game, while Earle had 165 total yards in the game.
EPC Jr. Head Coach Brian Weathers told the Tri-City Tribune that his team overcame some obstacles in the game. Weathers said, "We made some big plays and had some called back. The team played hard and we kept our composure."
EPC returns to action Thursday night, with a home game versus the Cross County Jr. Thunderbirds. Game time is at 6:00 p.m.