ADH director Boozman speaks about obesity epidemic
Thursday, September 16, 2004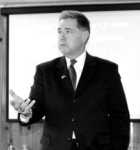 Obesity has been a hot topic lately thanks to Governor Huckabee's launch of the Healthy Arkansas program in May. Citizens across the state are being challenged to take a look at their eating and exercise habits and how their lifestyle is affecting their health and their future.
Dr. Fay Boozman, director of the Arkansas Department of Health, spoke about the issue at a joint meeting of the Marked Tree Lions and Rotary Clubs last Thursday. Boozman shared some alarming statistics with the group.
According to Boozman, in 1990 around 10% of people in the United States were obese, meaning their body mass index (BMI) was more than 30. In 2002, only 12 years later, the number jumped to 20%. In other words, one in five of all Americans is not just overweight, but obese.
Boozman said the rapid increase in obesity is an epidemic that has spread across the whole nation. "This is unique," Boozman said. "You never see something that affects the whole country, all demographics. Obesity affects the young and old, the rich and poor, the educated and uneducated…it's universal."
"The knee jerk reaction to this problem is to say, 'Okay, America. Get on a diet,'" Boozman said. "But there are some systematic issues here that we are going to have to deal with."
Boozman pointed to changes in behavior and lifestyle as a cause for the growing epidemic. "Drive through your neighborhood," he said. "They're no kids out playing. It's cooler in the house or they have other things to do."
Such changes in lifestyle are leading to serious illness in Arkansas and throughout the country. Boozman said poor lifestyle choices such as tobacco use, poor diet and lack of exercise are the underwriting causes of the major causes of death in the USA.
"450,000 Americans are dying each year from illnesses caused by obesity and physical inactivity," he said. "That's the same number of Americans that died in World War II."
Boozman said these poor lifestyle choices are especially affecting children. For the first time in history, children are being diagnosed with "adult diabetes" or Type II Diabetes. He said there has been an 800% increase in such diagnoses in children.
"Forty percent of children in Arkansas are overweight or at risk for being overweight," Boozman said. "We're approaching a point where we're going to have to tell our children that they're life expectancy is not going to be as long as their grandparents."
The illness caused by obesity is not only endangering lives, but also putting a substantial strain on the nation's economy. According to Boozman, health care costs are at an all time high of $1.6 trillion, 78 % of which funds treatment for chronic, preventable diseases.
Working to overcome his own personal struggles to lose 70 pounds in the last two years, Boozman said he believes there is hope to help Arkansans take control of their health.
"We've got to establish a foundation, an infrastructure, of wellness," he said. "We've got to make a commitment to a culture of health to help people make wise choices."
The Healthy Arkansas Program is a 32 month campaign that will include the following:
*Community initiatives
*Collaboration between public and private sectors, including healthcare and insurance providers
*Working with policy makers to invest in disease prevention and health promotion
*Health promotion programs to encourage responsible health choices and provide support for those choices
*State policies that recognize the importance of prevention
Healthy Arkansas will focus specifically on three major population groups: children in schools, adults in worksites and aging Arkansans.
For more information about the Healthy Arkansas program, visit www.arkansas.gov/ha.