MT Senior Girls win opener versus Armorel
Wednesday, November 17, 2004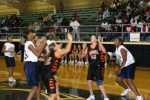 It was a successful opening night for the Marked Tree senior girls basketball team last Thursday night as they hosted the Armorel Tigers in the season opener at Indian Gym.
And Marked Tree guard Rudy Martin played an important role in the 44-24 victory over Armorel. Martin led all scorers with 22 points on the night and helped to run the Marked Tree fast-break offense against the larger Armorel team. Marked Tree led throughout the game, leading 7-5 after one quarter and 19-13 at halftime.
In the second half, Marked Tree broke the game open, going on a 15-9 run in the third quarter, putting the game away. Jessica Dean added 11 points for Marked Tree, while Jerri Ann Wallin had six points for Marked Tree, who faces Class AAA teams Harrisburg and Manila this week in an important run. Armorel was led in scoring by Sigurney Kirby and Julie Gifford, who each had nine points on the night.
Marked Tree also won the junior high game 46-32. After a close first quarter, Marked Tree went on a 10-3 run during a two-minute period in the second quarter, breaking the game open. Marked Tree led 11-10 after one quarter and 25-16 at halftime, on the way to victory. Marked Tree was led in scoring by Jasmine Mable, with 12 points on the night. Desiree Upshaw added ten points for Marked Tree, who lost its opening game last Tuesday night against 3AA-North team Marmaduke.
In non-conference action this week, Marked Tree hosted Harrisburg Monday night and will travel to 3AAA team Manila on Thursday night for an important test for the Lady Indians. Marked Tree returns home Nov. 22 with a game against Palestine-Wheatley. Game time is 5:30 p.m.