Smiley visits EPC
Monday, May 9, 2005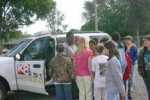 On Monday, May 2, KAIT 8's Ron Smiley, visited the EPC Elementary School to talk to Janice Baine's science classes in grades 4-6. Baine, along with Elementary principal, Sharon Coburn, watched as the children enthusiastically greeted Smiley. Smiley dedicated his time on his day off to teach the children about the new Woods Ford K8 StormTRACKER. The children were excited to have a celebrity visit and many asked for autographs.
Smiley gave the children inspiring messages along with his autograph to each child by name. He explained the Doppler radar to the children and how he receives updated weather information on the laptop within the Storm Tracker.
The StormTRACKER is a Ford Explorer that was provided by Wood Ford Sales in Trumann. Although it may look like the standard Explorer, there is nothing "standard" about it. Inside the StormTRACKER one will find the latest weather technology to keep the KAIT-8 crews tracking storms out of harms way so they can get the latest information back to the weather office at the studios.
The vehicle is equipped with a mobile live ThreatNET doppler radar system as well as navigation systems and advanced communication devices. All this technology was custom designed exclusively for the K8 Wood Ford StormTRACKER and is the only of its kind in the area.
Some children were curious about how the StormTRACKER works. Smiley patiently explained that when severe weather develops, crews from the K8 StormTEAM will take the StormTRACKER into the heart of developing severe storms. The computers and doppler radar systems on-board receive live, up to the second information from a network of satellites overhead through a mobile downlink mounted in the vehicle. The radar data allows the field crews to see the exact same information we see here in the K8 Storm Center. They see where storms are developing, how the winds are moving and where the largest hail may be falling. This, combined with what they see is all relayed back to Chief Meteorologist Chad Watson at the KAIT studios. They can also talk directly to local county Emergency Management Agencies and the National Weather Service in Memphis and Little Rock. All this is possible via the SkyWARN severe weather network which consists of an array of amateur radio links across the state. The video equipment in the StormTRACKER will also allow crews to take pictures of what they see and send those pictures back to the television station to be used in the Storm Center and on the air.
That same technology that allows crews to track storms in the field also allows them to send back the most important information, what they see.