Lady Indians end season with Regional loss
Monday, May 9, 2005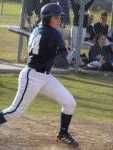 Tribune Sports Staff
As seemed to be the case all year, Marked Tree had a one-inning lapse that
spelled defeat as they went down 7-2 to Piggott Monday afternoon in the
opening round of the Class AA Region Four Softball Tournament at Rector.
"We lost, but I'm real proud of the team," coach Waylon Dunn said after the
game. "We were down 7-0 going into the sixth and we scored two runs to still
give ourselves a chance to win."
Offensively, five Lady Indians got one hit in their trips to the plate.
Holly Malone, Christy Plunkett, Cassidy Hopkins, Taylor Green and Samantha
Blagg were all 1 for 3. Malone's hit was a double and Plunkett had an RBI,
knocking in Green. Tori Horton, who entered the game to run for Hopkins,
scored on a wild pitch to second when she attempted a steal.
"That fifth inning is what got us," Dunn continued. "We had three or four
errors and they scored six runs. All in all, they were the same kinds of
errors we've been making all year, but now we're making them by being overly
aggressive. And that's good because we weren't aggressive at the first of
the season. We just have to learn when to go hard and when not to."
Natalie Corpier finished the season once more on the mound, where she struck
out three while walking five.
"She pitched well like she has all year," Dunn continued.
When asked to assess the season, Dunn pointed out the improvement the team
has seen this year.
"We don't have any seniors," said Dunn. "So we're going to have everyone
back from a 10-20 year. We've learned from our mistakes and the record
doesn't show the hard work these kids did."
"Everyone on the team improved in one way or another," Dunn continued. "And
next year, we'll have six seniors to give us leadership. That maturity they
gained this year, will pay off next year. Overall, we had a good year."