"Stories of Old" published by Lepanto Museum
Thursday, September 29, 2005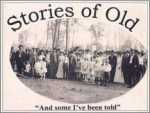 After three years and an untold number of hours of research, legwork and writing, the "Stories of Old...and Some I've Been Told" is finally complete. The historical project of the Lepanto Museum is just one of the many methods the museum has used over the years to fund their operation. By some accounts, it is likely one of the most ambitious.
"We produced it in an attempt to preserve the social history of our region," JaRue Bradford, editor of the book said. "The book has stories from hundreds of friends, some who are no longer living, who wrote down their sad, funny and fond memories."
Besides Bradford, others who were instrumental in compiling the publication were Bobby Harris, Betty Sharp, Imogene Harris, Virginia Cross, Hervey Howington and Dale Dunlap. The book was produced by Star Printing of Wynne.
"It took so long to get it compiled because we had to do so many things to get it ready," Bradford continued. "Some of the stories came to us in longhand which we had to type up. Then all the typesetting had to be done, we had to do proofreading and make corrections and then finally get it printed."
There are ten overall headings in the book: Early Days, Family Business, Amazing Stories and otherwise, Indian Trails, Floods and Critters, School Days, Family and Friends, Those were the Days, War Time, and Lepanto Locals...Back In Time.
All told, the book, which is over 200 pages in length, covers almost any subject of which any individual could think. In so doing, it relates tales with titles such as "Lepanto Carnival Shootout" from the files of the Marked Tree Gazette, "Spaghetti Seed" by Ruth East, "Sue's First Scribbler" by Sue Chambers and "A Different Kind of War Hero" by Suzanne Mays.
The book is also filled with various pictures from over the years, including some which had individuals in them that no one today could identify, but are interesting simply due to the subject matter. One of these pictures is the cover photo itself.
The picture shows a group of around 40 or 50 men, women and children dressed in their "Sunday finest" posing for the camera somewhere in a rural area. According to Bradford, not only did no one know when or where the picture was taken, but none of the individuals in the photo could be identified either. It is simply identified on the inside cover as, "A 'Sunday go to Meeting' when all wore hats, 1915 era."
Bradford admits that the book only touches the surface of the history of the area and hopes that the publication of the stories and anecdotes will inspire other individuals to relate some of their own memories for future editions.
"We would like to update it occasionally," Bradford said. "It depends on what other stories and pictures we get. But, possibly we could have a new one in a couple of years."
Bradford said when and if they do produce another edition of "Stories of Old," that they want to increase the area of interest from just the Lepanto area to include Marked Tree and Etowah as well as some other areas possibly.
Right now, though, the museum is concentrating on getting the current edition of the book into the hands of the areas residents.
"It's selling very fast," Bradford continued. "We've had it just a week now and about 200 have been purchased. We've kept the price low so more people could afford it. We've done this because so many donations came in to help in the production of it."
Bradford also said the book could be purchased by coming to the museum at 310 S. Greenwood or through the mail as well as on the internet by sending an email to Betty Sharp at bssharp1@sbcglobal.net.
"It's coming out at a good time because it would make a wonderful Christmas present," Bradford concluded. "But anyone, even if they're not from around the Lepanto area, would find it interesting."
Those seeking more information about the book or wanting to bring in stories for future issues may call 475-6116 or visit the museum.