MT homecoming grand marshal just back from New Orleans
Wednesday, October 12, 2005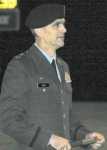 In 1975, when Richard Swan was helping the Marked Tree Indians to win football games, it probably never occurred to him that he might one day be grand marshal of the homecoming parade for those same Indians nor that he would be leading a clean-up effort following one of the most devastating storms the United States has ever experienced.
However, Friday afternoon Colonel Richard E. Swan, Arkansas Army National Guard Deputy Chief of Staff for Operations, found himself riding in the grand marshal's convertible just a few days after he had returned from helping in the recovery operation in New Orleans.
"It was a great honor to be asked to be grand marshal," Swan said after the parade Friday afternoon. "Colonel Overbey asked me to do it, and I'm thrilled."
While Swan was riding in the parade and later being introduced at the football game against Rector, his thoughts no doubt drifted back to the days and weeks he had experienced while in Louisiana.
"I thought I had seen destruction before," Swan said. "But, until you go and see this, there is really no way to explain it."
The Arkansas guard arrived in the area three days after the hurricane hit as part of a contingent of different Army and Air Force guard units from a number of states. Some 700 troops from Arkansas flew into a naval base there and currently a contingent of around 600 remain.
"We're trying not to keep anyone down there more than two or three weeks," Swan said. "It's very emotionally draining for everyone."
According to Swan, who joined the Marked Tree National Guard unit while still in high school, the National Guard has a two fold group. Like the regular Army, the guard must train and be prepared to go to war if necessary.
Unlike the regular Army, however, the Guard must be ready to help in the event of a domestic natural or man-made disaster and to provide support to the local authorities. This is a task, Swan pointed out, the Guard has been doing for over 350 years.
"We had two groups deploy from Arkansas," Swan said. "Task Force Arkansas, which was my group, and Task Force Razorback."
The first and primary mission of Task Force Arkansas was one of search, rescue and security. All of the troops, however, including the Colonel had to first overcome the initial shock of seeing an American city in such a condition.
"The first morning was something which looked very surreal," Swan said. "It looked like something out of a bad science fiction movie. Fires were burning everywhere so it was real dark, grey and smoky. For an instant it didn't look like America but like one of those third world countries. Our first mission was to go to the Super Dome, but we got diverted to the Convention Center on a rescue mission."
Like the reports people saw on television and in newspapers, Swan said many people did go wild there committing looting, vandalism and other crimes. He said people were unruly with no authority there. People were just wantonly destroying anything and everything. It went far beyond simple survival to cases of open anarchy. This all changed, though, once the Guard arrived.
"After the guard moved in the violence slowed down due to the people knowing we were armed," he said. "Once we landed, as they say in the military, 'The bad guys went to ground.' We heard some shots, but none of us ever got shot at."
Swan he was amazed and amused at some of the ridiculous things people were arrested for. He gave an example of one man who was arrested when he was stopped at a check-point with a safe sticking out of the trunk.
"There were caches of stolen goods found by different guard units," He said. "People had whole rooms and buildings filled with things they were apparently going to come back and try to sell."
Swan said he was also amazed at the lack of self-reliance of the people in New Orleans. He said it seemed as if the majority of people were just waiting for the government to do something when, in fact, there was much they could have done themselves if they had desired to do so.
"It's hard for people to imagine now," Swan said. "But, after just a little while people could have walked out of the Super Dome and found dry land. It was as if they had no sense of direction or what to do, though, like they were waiting for someone to tell them what to do almost."
Born in Dover and raised in Marked Tree, Swan said the experience makes a person very aware of the New Madrid fault and what could happen in north east Arkansas.
"People just can't be prepared enough," he said. "Not many people keep the kind of supplies they need to cope with a situation like that. In fact I don't think they even think about it at all. But if the big earthquake comes and it does what they say it can, it will be very scary.
"I do want to say one thing, though," he continued. "Country people like there are around here will have a much better chance of survival and of with coping with the situation than the people in New Orleans did. I don't mean to sound mean about it, but people who live in the country and in small towns simply know how to deal with crisis situations better than people in cities. Just like the people I was talking about who were in the Super Dome. They didn't seem to have any idea about how to help themselves. Country people and small town folks are different, though. They don't wait around for someone else to do things for them. Plus, people around here have real neighbors who help each other."
Swan did say that there are some similarities to the situation in New Orleans and the possibility of an earthquake in the north east Arkansas area.
"They (New Orleans) have been rolling the dice for a long time," He concluded. "They knew something like this could happen, but they kept ignoring it. This time they came up 'snake-eyes.'"
Colonel Swan didn't say as much, but in those last words was a warning that sooner or later the dice will also come up "snake-eyes" for the Tri-City area. This, of course, may not happen on the Colonel's watch, but if it does, he and the rest of the troops of the Arkansas National Guard will be ready to do whatever is needed to help their fellow countrymen. Whether at home or over seas, they will stand ready and be prepared as they have been for the last three and one-half centuries.