Mary Ann Deeds is named Lepanto Citizen of the Year
Thursday, December 15, 2005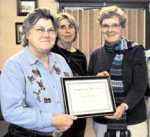 The City of Lepanto has been blessed with many wonderful citizens, family businesses and enthusiastic volunteers.
Mary Ann Deeds stands out as a wonderful woman who donates her time, hard work and much more for her fellow citizens. Her dedication to the community has not been overlooked by her friends, family and neighbors. They worked diligently to elect her as the Lepanto Citizen of the Year.
"I am so honored," Deeds said. "I just can't believe it. I have lived here all my life, 59 years. I never thought anything like this would happen to me."
Deeds is very active in the community and her church. A charter member of the Calvary Baptist Church in Lepanto in 1976, Deeds now serves as the church secretary. Her husband, Larry, is a Sunday School teacher. Her church friends said she is always willing to do whatever it takes. She once worked many nights sewing costumes for an Easter production.
Deeds has four children: Robbie Betts, Richard Bowman, Kelly Allen and Rodney Bowman. She also has four grandchildren: Ashley Allen, 16; Kessler Allen, 14; Montana Betts, 12 and Mackenzie Betts, 10.
She is a member of the Painted House committee and according to friends, was instrumental in the set construction for the movie. Working alongside her husband with hammer and nails in hand, there is little doubt that she is a hard worker. Her dedication to see the job through is amplified by the fact that she worked with one company, American Greetings in Osceola, for 35 years. That in itself is quite an accomplishment.
"I am a member of the Red Hat Society Ladies," Deeds said, "We are ladies over 50 having clean, Christian fun. Just because we're over 50 doesn't mean we quit living."
Each year, Deeds along with Kaye Holiman, work to organize the Lepanto Christmas parade. It is an event they have contributed their time and energy to for the last 16 years.
Her work on the memorial tree on Main St. each year is yet another example of the caring spirit Deeds shows to her community.
"Every day I do what I am supposed to do to make sure that when I go to bed I'm happy knowing I have done something right," Deeds said, "If I ever hurt anyone's feelings, I'm sorry for it and I pray that the Lord forgives me. I wouldn't hurt anyone on purpose."
After living in Lepanto for almost 60 years, Dees said she has seen a lot change in the small community. She said she has seen the most change in how businesses are operated. Due to the increase in technology, the jobs that used to be performed hands on by employees are now being done by machines.
"Overall, Lepanto is a good town," Deeds said. "With the good Lord's help it will be even better."
With citizens like Deeds in Lepanto, the community has a lot of which to be proud and for which to be thankful.