East Arkansas Family Healthcare Center receives grant
Thursday, August 24, 2006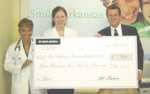 Last week the East Arkansas Family Healthcare Center (EAFHC) received a $7,709 "Smile! Arkansas" grant from Delta Dental of Arkansas to purchase new dental equipment and supplies.
EAFHC has offices in West Memphis and Lepanto.
"This grant is going to put a lot of smiles on the faces of our patients as well as the faces of those of us who work in the clinic," said Dr. Brooke Burris, one of the dentists who works at the EAFHC. "New equipment will allow us to relieve the pain of more people more quickly," said Burris.
"Delta Dental is proud to partner with the dentists and others who unselfishly donate their time to meet the oral health needs of those in eastern Arkansas," said Ed Choate, president and CEO of Delta Dental of Arkansas. "Through our Smile! Arkansas initiative, we hope to provide access to oral health care to every Arkansan who needs it," said Choate.
The EAFHC was opened in 1974 with offices in West Memphis and Lepanto. Currently, the clinic provides medical, dental and pharmaceutical services to the uninsured on a sliding fee scale. The Lepanto and West Memphis Clinics are open from 8 a.m. -- 5 p.m. Monday through Friday and offer extended office hours on Monday when the clinic closes at 7 p.m.
The "Smile! Arkansas" initiative is a statewide philanthropic and volunteer effort to educate Arkansans about oral health care issues, foster preventative procedures and behaviors and help care for those most in need. The initiative was launched by Delta Dental of Arkansas as another way to accomplish its core purpose "to improve the health of the people we touch." Since 2002, the Smile! Arkansas initiative has contributed more than $1 million for multiple projects, including distributing oral health education kits to every elementary school in the state, providing scholarships for dental students and helping support charitable dental clinics -- from Mountain Home to El Dorado -- with essential supplies and costly equipment.
"Delta Dental is committed to improving the health of the communities we serve and, in our case, that's the entire state of Arkansas," said Ed Choate, President and CEO of Delta Dental of Arkansas. "Our employees are proud to play a part in helping so many worthy causes and people in need."
Delta Dental has been writing group dental insurance since 1982 and currently serves more than 1,000 participating Arkansas dentists, 2,200 employer groups and more than 1.4 million lives. Delta Dental is the largest dental benefits provider in the state of Arkansas and is a member of Delta Dental Plans Association, a national network of independent not-for-profit dental service corporations specializing in providing dental benefits programs to 46 million Americans in more than 80,000 employee groups throughout the country.