Historical site makes way for progress
Friday, October 27, 2006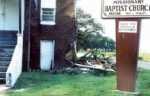 A historical sight as well as a place of worship is no longer a part of the Lepanto
Community. The First Missionary Baptist Church, which was located on the corner of Oak and Edgewood, has been demolished.
The church building was erected in 1936. The founders and trustees were the late Mose Mann, Frank Pettie and Frank Mann. The pastor was C.M. Mason. The clerk was W. Marshalle. Their names are printed on the corner stone from the old building. The corner stone was extracted and will be conserved for historical purposes, along with the church bell from the bell tower.
Even though the founders of the old church have passed on, the church has two dedicated officers/trustees that have been with the church for the past 40 years. They are Charles Williams and Leroy Madlock.
The old church had been a part of the community for 70 years. However, the members have been blessed to build a new place of worship. Parking space was needed, which is why the old building was torn down.
Members said they would miss the old church which holds lots of memories. They thank God for the memories which will forever be in their hearts.
"We now look forward to new and better things to come as we continue to worship in our new building," one member said. "It's a new place of worship for brand new times."