Williams hands off reigns to new OEM coordinator
Thursday, November 9, 2006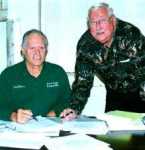 Courtesy of the Modern News
Merle Williams of Harrisburg has decided it is time to retire once again and spend more time doing the things he said wants to do. Like spending more time with his wife and his six-year old grandson Christopher, who lives in Fayetteville.
Williams, and his wife the former Jo Wimpy of Harrisburg, moved to Harrisburg in May of 1992 after he retired as a colonel from the Air Force. For the last six years Williams has served as the director for the Poinsett County Office of Emergency Management.
He plans to step down at the end of November, but he is not leaving without placing the office in capable hands.
On October 18, Marvin Krauss, 69, of Harrisburg officially came on board to start the transition period to take over the position.
Williams said that he and Krauss were trying to tie some loose ends together on a number of projects in process before he left office, especially in the area of upgrading communications for emergency responders in the county. Over the last couple of years the county has been purchasing and upgrading radios with funds from a federal grant. "We are working to enhance the communications for all departments in the county," said Williams.
Budget preparations, the county's hazard mitigation plan, and the flu pandemic plan are just some of the works in progress.
"I think Marvin will do a fantastic job," Williams said.
"When this job offer was presented to me by Poinsett County Judge and Williams as the new Office of Emergency Management person, I was thrilled to accept it," said Krauss.
The position is part time with one-half of the salary paid by the county and one-half by the state. However, with the extra demands placed on the states and county OEM offices since 911, Williams said there is some discussion around the state about making the jobs full time in all counties. But that would be something for then legislature to decide he added.
Williams said he has enjoyed his six years and working with all the people in the county. "Our first responders are doing a fantastic job," said Williams. He also said the county had some of the very best volunteer departments.
Williams and Krauss have a number of similarities in their background. Both are pilots and Krauss spent six years in the Naval Air force.
Krauss, a native of Illinois, was taught the tool and die trade by his father. He went to work at Chicago Aerial Industries as a tool and die maker, making the cameras that took the pictures of the silos in Cuba, more commonly known as the Cuban Missile Crisis.
He machined each part individually by hand. He was also a flight instructor at Lewis Lockport College, an aeronautical college.
Krauss came to Arkansas in 1965 as a flight instructor and air charter pilot for Dissinger Aviation at the Jonesboro airport. He also did tool and die work at Crane Company and Colson Caster Corporation.
He then spent 25 years as a crop duster, retired from that, and then spent two years as plant manager for Greenfield Seed.
Krauss also worked at Mid-South Manufacturing at Marked Tree and was in the air charter business, Mustang Inc., with Robert Bornhoft and Betty Shisler.
He is an active member of Calvary Baptist Church and has been Adjutant for the American Legion, C.C. Hill Post 14 in Harrisburg.
His wife, Doris, owns Doris' Hair Fashion and they have four children and several grandchildren.