Burrows Diary Crème closes after 25 years
Tuesday, February 20, 2007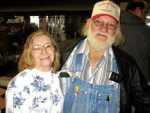 Tribune News Staff
One of Lepanto's icons opened for the last time Saturday. Burrow's Diary Crème welcomed its last customers, who were there to bid on the wide variety of things the Burrows have collected over the years. Items varied from John Deere collectible tractors to Coca Cola memorabilia.
Owners Cotton and Wanda Burrows have been in business for over 25 years in Lepanto. For a quarter of a century they have provided the community with food, entertainment and just simply a place to come in for a cup of coffee and visit.
"We are really going to miss it, but now is the time," said Wanda Burrows. "It's a good time for us to retire and do all of the things that we didn't really have time for when we ran the business seven days a week."
The Burrows say they plant to just relax for awhile and spend time with family. They have two children, James Burrow, Jr. and Marsha Adams. They have five grandchildren and one great-granddaughter.
They also have a few ideas for how to use the restaurant building to still serve Lepanto in other ways. They plan to clean out the building and perhaps make it into an arcade for their kids to enjoy.
"We are still going to try to stay as busy as possible," smiles Wanda Burrow. "But just kind of take things easy.
Cotton Burrow plans on selling produce in the summer time, and Wanda says she's even tossing around the idea of attending college in the fall.