After 61 years, Scott receives closure for brother's WWII service
Tuesday, February 20, 2007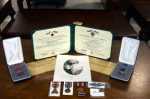 Tribune News Staff
"I think that everyone in America should have some of this. (If they did) it would be another country."
These were just some of the last words written home by a 19 year-old boy in the midst of the greatest war the world has ever known.
Little did Private Rufus Lane know how ominous his words were when he also wrote while in the killing fields of Europe. He served in Company B, 115 Infantry, 29th Infantry Division.
"I'm ok and hope to stay that way," he said. "If I get out of the army alive, you won't even know me."
Sadly, Private Lane didn't "get out of the Army alive." In fact, for 61 years, first his mother Bertha Lane until her death, and later his sister Reba Scott, had been trying to find information about their son and brother.
"I was only seven when he was killed," said Scott, who along with husband Lonnie Scott, owned and operated Scott Furniture in Marked Tree. "And my mother held out hope that he was alive until she died in 1987."
One of the reasons she held out this hope was that Lane was never officially declared killed in action, or KIA. The official records the family received never went beyond the claim that the private was missing in action.
Besides holding out a never-ending mother's hope, Bertha Lane obviously kept remembering how she had gotten word of Rufus being wounded on Aug. 7, 1944. Then word came that he had returned to action a month later in September.
The relief from knowing he had recovered from his injury was short lived. The family learned that Private Lane had been declared missing in action less than two months later on Oct. 4. This was the last information they received from the military.
"I was young, but I remember that we were just kind of waiting to find out what happened," Scott remembered. "When no other word came about him, my parents started writing the Army to try and get some information."
No communication came for over a year, but finally, in late January 1946, the family received a letter from the War Department stating that even though there was no body found, for all practical purposes, Private Rufus Lane had been killed in action.
The letter said, in part, "A careful review of the official records reveals that Private Lane's organization was assigned the mission of capturing a woods in the vicinity of Hatterath, Germany."
The letter went on to say that they came under heavy attack and had to withdraw from the area. When they had reorganized, Lane was, along with many other men, missing. The letter then concluded, "After a careful review and consideration of all reports,...it was concluded that the circumstances were such as to leave no reasonable doubt for believing he survived."
As a result of this finding, the official verdict was issued that Lane had been killed in action.
At the end of the letter, the names of three fellow soldiers were listed so the Lane's family could contact them for possible eyewitness accounts. Bertha Lane did contact one of the men, Jennings L. Damron of Belcher, Ky. who wrote a letter back to the family about the incident.
"I knew your son well and I do remember what took place," Belcher wrote. " I didn't see your son get hit, but I saw him just before we left the woods and two of his friends had started carrying him out. But they decided that there wasn't any use because he was hit pretty bad. Mrs. Lane there's no doubt about him being killed…."
Belcher also answered the question Lane's mother had concerning the possibility that he had been captured by Germans and was somewhere in a hospital somewhere. He said basically that Lane was hurt too badly for the Germans to bother trying to transport him.
"We got the letter, but my mother still held out hope," Scott said.
In fact, the whole family, including Lane's brother Rudolph and three other sisters, Juanita White, Carol McDaniel and Joy McCullom, obviously knew that the possibility of finding even a body was remote, but probably hoped that a miracle would come about.
The story then moves to March, 1950 when the Lanes receive a letter from the Department of the Army which opens by saying that it is "the final determination of the investigation in the case of your son." It went on to state that just as a precaution, German records were checked to see if he had been captured, but nothing to that effect ever surfaced.
As a result, Rufus E. Lane was declared as killed in action. Additionally, the letter stated that no remains could be found. The letter ended by stating that, "It is not easy to express condolences to you who gave your loved one under circumstances so difficult that there is no grave at which to pay homage."
A little after this, a second letter came which was accompanied by a bronze grave marker as well as a miniature of the "colors" of the 29th Division. In many cases, the story would end there, but Lane's mother continued to try to find out more information about her son.
"Like I said, she never lost hope that he might just show up some day," Scott continued.
But once again, move forward some fifty years and Scott received a call from a man in Harrisburg named Mr. Crum.
A veteran of World War II, Crum had just returned from visiting the Netherlands American Cemetery and Memorial near Margraten, Netherlands. While looking at some of the more than 8,000 cross headstones, he had happened upon a stone for one PFC Rufus E. Lane. What caught his attention was the nickname of "Tootsie" on the headstone.
Crum had known a man named Tootsie Lane in Tyronza and put two and two together and realized that this was the man he had known.
"He told me that he had seen my brother's name and the medals he had won," Scott said about the call from Crum. "So I decided then to try to get the medals and any more information I could."
Like her mother, Scott ran into a number of road blocks in trying to find out about her brother. She admitted that she didn't know what she might find after so many years. But she filled out the necessary papers with hopes of getting at least something in return.
Months passed with no word, then finally last December she received a large padded manila envelope from the Army.
"My first thought was don't tell me I've got to fill out more papers," she said.
Soon she realized, though, that the envelope contained something more than papers to be filled out. She had received all of her brother's medals awarded posthumously.
"It was really hard to believe that they had come after all this time," Scott said. "It took 61 years, but we finally had them."
Among the medals Lane was awarded was a Bronze Star, French Croix de Guerre, European African Middle Eastern Campaign Medal and a Purple Heart with Oak Leaf Cluster. Along with these medals and the other five he was awarded were certificates or letters telling of each award's significance.
Born in December 1924, Rufus E. Lane would now be 82 years old. Instead, he never quite reached his 20th birthday because his country needed him and he answered the call. Now his family has closure in knowing Lane received the honor he deserved for his sacrifice, the ultimate sacrifice for freedom.