Rotary club makes donation in Bankston's honor
Thursday, March 8, 2007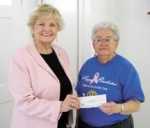 Tribune News Staff
The Marked Tree Rotary Club presented the Susan G. Komen Foundation for Breast Cancer Research with a check for just over $2,000 last Wednesday. The club raised the funds during its annual Peggy Bankston Walk for the Cure, a walk-a-thon held in September in honor of the club's former member who died from breast cancer in 2005.
"We are so grateful for the community's support in this project," said Samantha Martin, president of the club. "We all loved Peggy and think it is wonderful we can donate to breast cancer research in memory of her."
Bankston chose the Komen Foundation herself while the walk was in its planning stages.
The club has hosted two walk-a-thons in conjunction with the Delta Cotton Pickin' Jubilee in September. It has continued to grow and be successful.
"We doubled our participation the second year we did the walk," Martin said. "We were so excited to see people get out and do something to help cure a disease that touches all our lives in some way or another."
Komen foundation representative Jane McDaniel was on hand Wednesday at the club's meeting to accept their donation. She also spoke to the club about the foundation and the steps it is taking to help cure and prevent breast cancer.
"Your money is well spent," McDaniel told the club. "No more than 18% goes to administrative costs."
In addition to raising funds for cancer research, McDaniel said the foundation strives to educate women about breast cancer. They also heavily promote early detection.
"We focus on education, support groups and serving the underserved," she said.
The Komen Foundation supports Breast Care, a program that allows uninsured or underinsured women between the ages of 40 and 64 to have a mammogram each year. The program also pays for diagnostic work and treatment if necessary.
"We tell women they need to remember three important things," McDaniel said. "First, there's the monthly self check. Then they need an exam by a doctor yearly and a mammogram yearly. These are all important."
McDaniel, who is a breast cancer survivor herself, said she was proud of how far breast cancer education has come since she was diagnosed.
"Twenty years ago people didn't talk much about breast cancer," she said. "Now more and more people have been okay with talking about it."
And, according to McDaniel, that open communication helps reduce the fear women have about getting those yearly exams.
"We thank you for your contribution," she told the Rotarians. "It will be well used."
Bankston's daughter Jana Hatley, who is also a Rotarian, told the group she was appreciative.
"My family is thankful that you have honored my mother the way you have," she said. "Thank you all very much."
The Marked Tree Rotary Club meets at noon each Wednesday in the fellowship hall of the First United Methodist Church. Those interested in joining should call Samantha Martin at 358-2993.