Indians continue to improve as district tournament time nears
Wednesday, April 4, 2007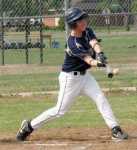 Tribune Sports Staff
Marked Tree (11-8) closed out a spring break week with three wins at home to move further into the win column as the district tournament looms. The Indians first had to come from behind to defeat Hoxie 3-2. Then Friday they hosted spunky Turrell, defeating them by identical 15-0 scores in a pair of three inning games.
Marked Tree 3, Hoxie 2
Last Thursday, it took nearly 10 full innings, but the Indians moved into the win column with a 3-2, come-from-behind victory over Hoxie at Marked Tree (9-8).
Ninth grader Richie Tate pitched the first eight innings, giving up one run on four hits and two walk while striking out two. William Ruthven came in to earn the win in relief, pitching the last two innings, allowing one run on two hits while getting three strikeouts.
The Mustangs took the lead 1-0 in the top of the third inning when they scored on a bases loaded, one-out, 5-3 line drive. Hoxie scored again in the top of the sixth to take what looked to be a commanding 2-0 lead.
The Indians immediately came back in the bottom of the sixth, however, when John Ed Turpin hit a triple, then scored on a Phillip Bickerstaff double.
Bickerstaff then scored himself and suddenly Marked Tree and Hoxie were deadlocked at 6-all.
It remained that way for the next 3.5 innings. But, in the bottom of the 10th, Matt Tacker singled, then moved to third on a Matt Gill single.
Turpin then came up and sent a fly ball deep into left and, after the tag, Tacker loped home for the winning score.
Bickerstaff and Gill led the hitting with 2 for 4 efforts while Turpin finished 1 for 3. Tacker, Colby Tacker and Loran Ghant finished 1 for 4.
Marked Tree 15-, Turrell 0
Hapless, but spunky Turrell showed up in Marked Tree Friday with just enough players to take the field for a doubleheader. Out of sympathy for their lack of baseball prowess, coach Matt Wright held out a number of his starters, allowing his bench to gain some much needed experience.
But even with most of the offense in the dugout, the Indians still amassed a 12-0 first inning score, leading to the 15-0 final.
Matt Tacker pitched the three innings, giving up no hits as he struck out eight and walked three.
Offensively, Ethan Frazier, Tate and John Roach were each 2 for 2 with
Frazier scoring two runs, Tate hitting a double, a triple and scoring once, and Roach hitting a three-bagger and scoring two runs. Will Johnson and Colby Tacker were both 2 for 3, Johnson bagging a triple while Tacker hit a triple and scored twice. Ghant and Brandon Thompson went 1 for 1 with Ghant scoring once and Thompson hitting a triple. Jay Blansett and Josh Dabney were 1 for 2, each scoring a run while Matt Tacker closed out the scoring with a home run in three at bats.
Marked Tree 15, Turrell 0
The second game was just a continuation of the first as Tate pitched two innings, striking out all six batters. He was followed by Gill, who did the same to the last three batters.
Offensively, Tate, Thompson, Blansett, Dabney and Roach had identical 2 for 2, two run games. Frazier, Matt Tacker and Johnson followed with 2 for 3 games, Frazier and Tacker scoring a run each while Johnson scored two and hit a triple. Colby Tacker was 1 for 3 with a run scored.