Lady Indians win only game on short week
Wednesday, April 4, 2007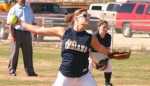 Tribune Sports Staff
The Lady Indians (9-7) only had one win last week, but this was understandable in that they only played one game, defeating Crowley's Ridge Academy 13-1 last Tuesday at Marked Tree.
Christy Plunkett lead all hitters by far with a 3 for 3 day, scoring two runs and knocking in six others. Hannah Ghant and Lyndsay Constant were both 1 for 1 with Ghant hitting a double, scoring three runs and knocking in a run while Constant tripled and scored once.
Sommer Smith closed out the hitting going 1 for 3 with two RBIs. Scoring runs were Emma Terrell and Whitney Walker with two each, and Smantha Blagg, Ariel Vance and Cherelle Love with one run apiece.
Ghant pitched the entire five innings, striking out 10 while giving up three walks and one run.