Local graduations set for this Thursday and Friday
Thursday, May 31, 2007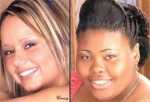 Local seniors have been marking the days off the calendar in eager anticipation of their big day. Graduation for Marked Tree High School is set for 7 p.m. Thursday, May 31 at the school auditorium.
East Poinsett County High School graduation is set for 8 p.m. Friday, June 1 on the school football field. In case of rain, the event will be held in the school gym.
MTHS valedictorian is Sylvia LaShay Johnson and salutatorian is Skye Pollard. Whitney Walker is a distinguished honor graduate. Other honor graduates include William Ruthven, Christy Plunkett and Brian Coleman.
EPC valedictorian is Christina Day and salutatorian is Ross Harston. Honor graduates include Megan Cato, Justin Williams, Katie Conrad, Kristen Richmond, Hunter Turner, Harvey Roach, Stephen Baney, Amanda Dawson, Amanda Hendon, Beth May, Brittney Smallwood and Charles Stover.