Indian and Lady Indian athletes honored for athletic prowess
Thursday, May 31, 2007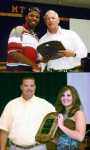 Tribune Sports Staff
In past years, Marked Tree's awards ceremony had been held in the auditorium, but this past Tuesday, the awards were presented in the elementary cafeteria, better to accommodate a barbeque supper which accompanied the ceremony. According to athletic director Tim Branum, a number of athletic boosters arranged for the meal to help thank the various athletes for a good year.
Each coach in the various sports handed out various prizes and awards for performance and participation.
The four primary awards were the Teddy Talley Award, the Doc Bridger Award and the awards for the male and female athletes of the year.
Former Indian, Don Folder, an all-conference and all-state fullback for Marked Tree in 1966, and Danny Adams presented the Teddy Talley Award to William Ruthven. A $500 scholarship goes with the award.
Ruthven also was awarded the Doc Bridger award given to the outstanding scholar athlete each year. Ruthven, an outstanding team leader in both football and baseball, maintained a 3.4 GPA and graduated with honors.
Brian Coleman and Christy Plunkett were named outstanding male and female athletes. Coleman starred on the football field and basketball courts while Plunkett could be seen leading the basketball and softball teams as well as donning her cheerleading togs during the football season.
Cheerleading sponsor Lou Ann Blagg opened the presentations by recognizing the various cheerleaders in both senior and junior high programs giving out awards for each year of participation. One year awards were given to: Meghan Scott, Shelby Herrell, Deidre Stacy, Shaniqua Udell, Jacquelyn Adams, Jalah O'Neal, Marcia Buckley and Peyton Carter. Two year awards: Cierra Harsson, Amber Ford and Ariel Moore. Three year awards: Taylor Green, Karmyn Blagg and Corye Jones. Four year awards: Megan Tedford, Emma Terrell and Christy Plunkett. Five year awards: Sommer Smith and Tori Horton; Six year award: Samantha Blagg.
Awards and recognition given in other sports were:
Senior football: outstanding offensive back-Brian Coleman, outstanding offensive lineman-Leonard Tumbs; outstanding defensive back-Brandon Stacy; outstanding defensive lineman-Phillip Bickerstaff; coaches award-William Ruthven; most improved-Marcus McKay; best all around --Traveon Powell; teammate award-Clint Hawkins and Indian award-Jay Blansett.
Senior boys basketball: outstanding defensive player-Dee Love and leading rebounder-Marcus McKay.
Senior girls basketball: MVP-Deziree Tull; leadership award-Christy Plunkett; hustle award-Patrice Powell and Emma Terrell.
Baseball: silver slugger-William Ruthven; golden glove award-Etahn Frazier; Cy Young award-Matt Malone; RBI award-Phillip Bickerstaff; coaches award-Matt Gill and Colton Seales.
Softball: outstanding pitcher-Hannah Ghant; best batting average and RBI awards-Christy Plunkett; most improved-Sommer Smith and coaches award-Emma Terrell.
Junior football: outstanding lineman-Colby Tacker; outstanding back-Latre Daniels; most improved-Alfrdo Rodriquez and MVP- Richie Tate.
Tennis: outstanding male athlete-Michael Brown; outstanding female athlete-Shelby Beck.
Senior track: outstanding male athlete-Brandon Stacy.
Junior boys basketball: MVP-Richie Tate and most improved-Sagar Patel.
Junior girls basketball: MVP-Rachel Young; leadership award-Hannah Ghant; and hustle award-Amelia Stacy and Shelby Beck.
Junior track: outstanding male athlete-Joe Burns; outstanding female athlete-Rachel Young.