Marked Tree gets new firetruck
Thursday, June 28, 2007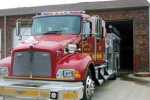 The Marked Tree Fire Department took proud passion of their newest piece of equipment---a $242,000 fire truck.
"The city paid $12,000.," Mayor Dixon Chandler said. "And we received a $230,000. 955 grant from FEMA for the remainder."
The truck has 1000 gallon storage capacity and can pump water at the rate of 1260 gallons per minute. The truck is also air conditioned so firefighters can cool off while fighting a fire.
It is also equipped with four self-breathing air tanks and has seats which allow firefighters to wear their tanks while riding to a fire. It is also equipped with generators and is all-electric.
"We'll use it in town," said Fire Chief Danny Johnson. "Plus we can go to other towns with it when we're needed."
Johnson said it took about a year to get the truck which was put together in Memphis.
"We're proud to have it," said both Chandler and Johnson.