Tornado touches down near Tyronza
Tuesday, January 15, 2008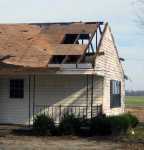 Tribune Editor
Residents of Deckerville, a small community near Tyronza, is still cleaning up from a tornado that rocked the area last Tuesday, Jan. 8. According to the National Weather Service in Memphis, the F-1 tornado touched won on Lucas Road, just south of Highway 63. The Tornado was 25 yards wide and 250 yards long.
Two homes in the area sustained significant damage and a utility and parking shed was completely destroyed. The homes are owned by Randy and Sandy Lucas and Whit and Lois Lucas.
Randy and Sandy's daughter Chasity was at home when the tornado hit the area.
"It sounded like a bomb went off," she said.
The tornado took down numerous trees in the area and scarred debris for more than a mile across a field in its wake.
The Lucas families are focusing on trying to put their lives back together after the twister that even blew the windows out of their vehicles. Luckily, they're not alone. Several area residents came out the next day to help with cleanup and repair efforts.
"I've never seen anything like this," said Christy Mott who came to help with cleanup. "When we got here I couldn't believe how bad it was."
Mott said she lived close to the area and was glad no one was hurt by the storm.