Indians meet possible state champions in Bulldogs
Tuesday, January 15, 2008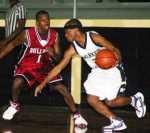 By DAN BRAWNER
Tribune Sports Staff
If there's a better team in the state, I would like to see the two of them play," said coach Barbara Wilburn following the Indians' 65-37 loss to Earle last Friday night at Marked Tree. "We were definitely outmatched. Earle is just phenomenal."
For Wilburn to give one of Marked Tree's biggest traditional rivals such praise can be easily understood in light of the way Earle dominated the game, but outmanned Indians. In the first 5:30 of the game Marked Tree was able to score only three free throws while at the same time Earle scored 22 points on nine straight possessions of the ball. The quarter ended 29-7 with no relief in sight. The second period was only slightly better, the Bulldogs scoring only 18 to the Indians' five.
It can only be imagined what could have been said in the Indians' locker room to prop up the team at the half, now down 47-12. Whatever Wilburn said to her charges, they kept trying and giving their best efforts in the next two quarters as the game ground to its 65-37 final.
"Everything they did, shooting, rebounding, ball handling, defense, they didn't seem to do anything wrong," concluded Wilburn. "You could tell when they came out on the court how confident they were. They had a swagger you just don't see with many teams. I wish we could have that swagger."
Joseph Anderson scored 12 to lead Marked Tree, while Gavin Thompson had seven, Richie Tate six, Nathan Gilmore four, Tyrone Doggett three, and Joe Burns, Byron Martin and Jarvis Smith with two each.
Strangely, Bolden of Earle was the only Bulldog in double figures with 19. The visitors had 12 players score points.
Jr. Bulldogs 50, Jr. Indians 21
While there is no tournament to decide the best teams in the state at the junior high level, it's likely if there was that Earle's junior boys team might have as much claim at that title as their senior brothers may have in a month or so. And the Junior Indians might agree after meeting them last Friday.
The 50-21 final score was equally as impressive as were the skills of the younger Earle squad. The Junior Bulldogs had an 18-4 lead at the end of the first period and a 28-7 lead at the half.
By the end of the third period, Earle had turned the game into a clear rout, 40-14.
"I though we played as well as we could," said Wilburn of the game. "They were just like the senior high -- bigger, stronger, faster. They dressed out 20 and left almost that many at home."
Darrius Ivy and Jerry Phillips led the Junior Indians with nine points each, followed by Devante Aelmore with two and Demarius Aelmore whohad one.
Earle's Selery had 10.