Harrison continues serving his hometown
Wednesday, March 26, 2003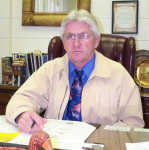 Ronnie Harrison retired from the Trumann Post Office in Aug. 23, 2002, but soon went to work for the city as mayor in January.
"I think Trumann and the people are worth the effort and I will do my best but I'm going to need their help," Harrison said.
Harrison has set several goals for Trumann two of which are cleaning up the city and taking care of drug problems. Harrison said he noticed these problems as he delivered the mail.
In 1959, Harrison moved to Bay with his family. He attended school at Crowley's Ridge Academy where he graduated in 1965. He spent 10 years before that in grade school at Jonesboro.
Harrison began college but was drafted. He spent four years in the Air Force and was stationed in Rapid City, S.D. for three and a half years.
After his service to the Air Force, Harrison moved back to Bay and began working for the Trumann Post Office in 1972. He made the move to Trumann in 1988.
Harrison began a career in politics in 1990 when he was appointed to the Planning and Zoning Committee. He served on that committee for eight years. He was chairman of the committee for the last six years that he served. He was elected to the Trumann City Council in 1992 as a representative of Ward 4. He served on the council for the next 10 years. In 1994, he became a liaison member for the Trumann Industrial Development Commission.
Harrison began working with the Trumann Chamber of Commerce on the Duck Festival in 1993. He became chairman of the festival in '94 and has held that position every year since.
He served on the Key Point Project in 1998 which was given the task of research and development for the recreation complex. Danny Harvison, Jim Montgomery, Terry Halfacre and Shane Moye also served on the project.
"(We were looking for) something suitable for all the residents of Trumann," Harrison said, noting that many out-of-town residents who come to the Sports Complex are impressed.
"We're going to improve on that," Harrison said. "(We're glad the residents have) supported it for so long."
In order to complete the new community building located near the Sports Complex about $60,000 is needed, said Harrison. The city was expecting the money from state grants but with the tightening of budgets that money is no longer available. But with the donation of volunteer help and supplies, the new community center is slowly coming to a finish. Harrison said is in process of seeking donations from businesses and grants to help complete the community building.
Harrison is married to Alice. The couple has a daughter, Cara, and a granddaughter, Jaycee Hogan.