Ponder brings history to life
Wednesday, April 23, 2003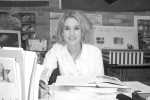 Terrie Ponder feels her students learn more if they are able to ask her questions about an experience she was involved in to further her learning. That is what pushed her to apply to become a master teacher. Ponder teaches eighth-grade American and Arkansas history at Trumann Junior High School.
"I think it's very important students today are taught about the history and culture of all Americans," Ponder said. "The more I know about different ethnic groups the more I can teach my students."
Ponder was selected as one of seven Arkansas master teachers who will design a curriculum incorporating Arkansas history, U.S. history and geography in a study of the Japanese American experience in World War II Arkansas. Ponder said that the curriculum will be designed as a 10-day learning experience and will be implemented throughout the state. She noted that her Arkansas history book devotes only four pages to the subject. The project is funded by a grant from the Winthrop Rockefeller Foundation.
Ponder will attend the 2003 National Summer Institute for Educators at the Japanese American Museum in Los Angeles, Calif.
From 1942 to 1945, more than 16,000 Japanese Americans were incarcerated at the Jerome and Rohwer Relocation Camps in south Arkansas. Ponder said that there has been no preservation of the history of the camps and that the camps were the farthest camps east of California.
Ponder sent in an essay and an application in December to begin the process. She was then notified in February that she was one of 16 applicants who had been selected for an interview. A week after the interview she was notified that she had been selected as a master teacher.
Ponder has also received a $2,200 grant from the Jordan Fundamentals Grant Program for her students to pursue an oral history project titled "When I Was A Kid ..."
"The students will actively engage in historical learning by interviewing and recording oral histories of older family and community members," Ponder wrote in her application. "This project is different in that it actively engages the student in learning the history about their family and/or community. It forces the student to find out something about themselves and their heritage. So often, students think of history as boring because teachers have not gone beyond the textbooks and worksheets. This project will allow history to come alive and place the student in the role of the historian."
The students had a choice of videotaping interviews, transcribing audio-recorded interviews, documenting preservation of a traditional craft or compiling a social history of family memory books or recipe books.
She is married to John Ponder and she has four sons, Daniel, Zack, Jaccob and Nicholas. She lives in Jonesboro and is currently pursuing a master's in history from Arkansas State University.