Sharp family reunion
Wednesday, May 18, 2005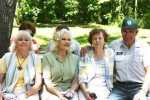 The Sharp Family held their 26th annual family re-union this past Sunday.
The family first gathered at Holly Springs Cemetery near Harrisburg for the graveyard's Decoration Day.
They then headed to Poinsett Lake for a picnic and visiting.
Family in attendance included: Joyce and Gary Hogan of Cherry Valley, John, Cheryl and Mallory Roberts of Trumann, James and Carin McClung of Trumann, Matt, Sherrie, Ben and Lydia Rouse of Jonesboro, Bill and Wanda Sharp of Harrisburg, Sabrina, John, Rachel and Hayden Ryan of Jonesboro, Dorothy Sharp of Harrisburg, Paul and Aileen Hogan of Wynne, Bob, Jennifer and Charlie Roland of Jonesboro, Debbie and Mark Doty, Sarah and Caitlyn Tanner and Ryan of Harrisburg, Nell and Henry Champion of Wynne, Norma Ferguson of Coolyvlle, Tex , John Carr of Colleyville, Tex., Lee Ann Williams, of Round Rock, Tex., Sheila and Al Borden and Eric Turnbold.