Madelyn Karaki born
Wednesday, January 2, 2008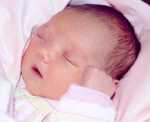 Don and Ann Marie Karaki are proud to announce the birth of their daughter, Madelyn Bennett Fumi Karaki.
Madalyn was born at 5:53 p.m. on Dec. 11 at the University of Alabama Hospital in Birmingham, Ala. She weighed seven pounds and seven ounces and was 19 and ½ inches long.
Madelyn is the granddaughter of Ruth Ann Estes of Trumann and Ferrell Hinds of Cordova, Tenn. and Skook and Fumi Karaki of Ft. Collins, Colo. She is the great-granddaughter of Kathlyn Yarbrough of Trumann.